Egypt uprising: Senior police officials cleared of murder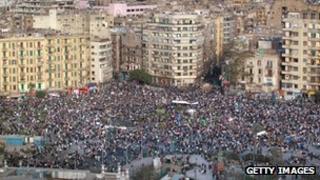 An Egyptian court has cleared four former senior police officials of being involved in the killings of protesters during last year's popular uprising that ousted President Hosni Mubarak.
Prosecutors had said the four tried to prevent protesters from taking part in a key day of demonstrations on 28 January 2011.
Some 27 people were killed and 40 wounded in clashes on that day, one of the deadliest in the 18-day uprising.
Some 850 died during the crackdown.
The four are among some 200 security officers and other former regime officials who have been tried or still face charges over the deaths of protesters during the uprising.
Hosni Mubarak himself received a life sentence for failing to stop the killings, but the vast majority of police officials have been acquitted or are still on trial.
Faruq Lashin, former director of security in the Nile Delta province of Qalubiya north of Cairo, was among the four who had been charged.
The mass protests against the Mubarak regime were fuelled by anger against police brutality.