Gaza Strip: Israeli strikes 'kill six militants'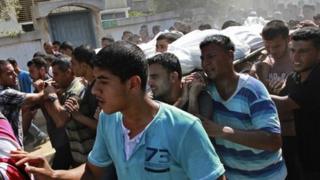 At least six Palestinians have been killed in two Israeli strikes in Gaza against what Israel says were militants preparing rocket and bomb attacks.
Palestinians said three were killed by Israeli fire in the north of the strip on Thursday morning. Israel said they were planting a bomb near its fence.
Hours earlier, an air strike in central Gaza killed three militants who Israel said were set to fire rockets.
There has been a spate of rocket attacks and air strikes in recent days.
In the latest incident, Israel said it had fired at a "terrorist squad that was planting an explosive device" near the town of Beit Hanoun.
The men were reportedly part of a small militant group called Homat Al-Aqsa.
It came hours after another strike which Israel said "targeted a terrorist squad... involved in previous rocket launches at communities located in southern Israel".
Witnesses said the air strike hit a car in which four people were travelling near the Bureij refugee camp.
Palestinian medical officials and witnesses confirmed that three militants had been killed in that attack.
A fourth man was critically injured, a health ministry spokesman told the BBC.
Large numbers took part in a funeral procession for one of those killed in Gaza City.
There has been an increase in cross-border rocket fire by Palestinian militants in recent days, though without causing casualties. Israel has also responded with air strikes.
Israel says it holds the Hamas movement which runs Gaza responsible for all attacks emanating from Gaza, even if it is other militant groups carrying them out.