Egypt football fans attack association for resuming league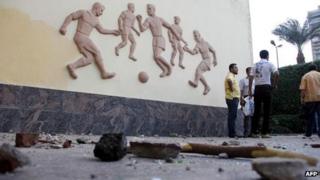 Hundreds of football fans in the Egyptian capital Cairo have attacked the headquarters of the country's football association, in protest at plans to resume the premier league.
Protesters threw petrol bombs and other missiles at the association's building.
The fans of Cairo's al-Ahly club are angry that the league will restart while a trial concerning deadly stadium riots seven months ago continues.
More than 70 people were killed during February's riots in Port Said.
There have so far been no reports of any casualties in Wednesday's violence.
February's stadium riots were the worst in Egypt's footballing history and led to the suspension of the league. They also sparked riots in Cairo during which a further 16 people were killed.
Al-Ahly fans were attacked when fans of local Port Said side Masry invaded the pitch, hurling stones and fireworks at the visitors.
At the time some fans, who said security forces appeared to do little to prevent the clashes, accused supporters of toppled President Hosni Mubarak of instigating the incident.
Die-hard al-Ahly fans were prominent in last year's protests that led to Mubarak's overthrow.
Among those on trial for their involvement in the Port Said riot are nine policemen.