Syria troops 'bombard Aleppo districts'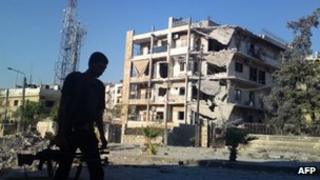 Security forces have shelled parts of Syria's second city of Aleppo, killing at least 19 people, activists say.
Troops began to bombard the districts of Bustan al-Qasr, Marjeh and Hananu before dawn. Many of those killed were reportedly women and children.
One opposition activist network put the morning's death toll in Aleppo at 54.
Meanwhile, Egypt's new leader has said President Bashar al-Assad must "take lessons from recent history" and step down before it is too late.
"Don't take the right step at the wrong time... because that would be the wrong step," Mohammed Mursi warned his Syrian counterpart in a speech at a meeting of Arab foreign ministers in Cairo.
Mr Mursi also said that a quartet of regional states - Turkey, Saudi Arabia, Iran and Egypt - would meet to discuss the Syrian crisis.
TV barred
Later, the Egyptian-owned Nilesat satellite channel ceased coverage of Syrian state TV and two other pro-government channels, al-Ekhbaryah and al-Dunya.
A Nilesat executive said the Arab League group for Syria had asked the channel to stop the broadcasts.
Syrian state TV was seen on Nilesat early on Wednesday, but reception was lost around 11:30 GMT, after the Cairo ministers meeting.
Nilesat continued to broadcast anti-government Syrian channels.
Turkey's Prime Minister, Recep Tayyip Erdogan, separately accused President Assad of creating a "terrorist state" in Syria.
The UN refugee agency said on Tuesday that more than 100,000 Syrians fled the country in August - the highest monthly total since protests against President Bashar al-Assad erupted in March 2011.
More than 230,000 people are now sheltering in neighbouring states.
There are also thought to be more than 1.2 million internally displaced people in Syria, and 2.5 million in need of humanitarian assistance.
'Situation deteriorating'
Many of the recent influx of refugees into Turkey have come from Aleppo, where the military recently launched a major offensive to regain control of rebel-held areas.
Opposition activists said more than 13 districts of the northern city came under heavy bombardment before dawn on Wednesday.
The Syrian Observatory for Human Rights, a UK-based anti-Assad group, said 10 civilians died in the southern area of Bustan al-Qasr, while nine bodies, including those of children, had been found in the Marjeh and Hananu districts.
The Local Co-ordination Committees (LCC), an activist network, reported that at least 15 people had died in the shelling of Marjeh, including 10 members of a single family. Seven children and three women were also killed in Bab Nairab, a southern district, it added.
The LCC put the nationwide death toll at 75, including 54 in Aleppo. At least 135 were killed across the country on Tuesday, it said.
The bodies of nine men were also found on Wednesday morning in Jobar, a north-eastern district of Damascus. Opposition activists said they had been shot dead by pro-government militia.
On Tuesday, the new UN and Arab League envoy to Syria warned that the situation across the country was "deteriorating steadily".
"The death toll is staggering, the destruction is reaching catastrophic proportions and the suffering of the people is immense," Lakhdar Brahimi said in his first address to the UN General Assembly since his appointment.
"The future of Syria will be built by its people and none other," he added. "The support of the international community is indispensable and very urgent. It will only be effective if all pull in the same direction."
Mr Brahimi said he would travel to Damascus in the next few days.
UN Secretary General Ban Ki-moon meanwhile accused countries who sent arms to Syria of "only contributing to further misery - and the risk of unintended consequences as the fighting intensifies and spreads".
He did not name any country, but Russia is the Syrian military's main arms supplier.
Senior US officials have also told the New York Times that Iran has resumed shipping military equipment over Iraqi airspace.
Experts told the newspaper that the flights had enabled Iran to provide supplies despite Syrian rebels seizing several land border crossings.
The White House has pressed Iraq to shut down the air corridor, with Vice-President Joe Biden reportedly raising the issue with Iraqi Prime Minister Nouri Maliki in a telephone call in August.
An Iraqi government spokesman said Tehran had assured Mr Maliki that the flights contained only food and other humanitarian aid.