Israel investigates Jerusalem monastery arson attack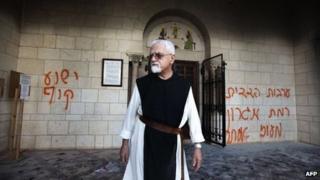 Police in Israel have launched an investigation into an arson attack on a Christian monastery near Jerusalem.
Vandals also sprayed anti-Christian graffiti on the walls of the Cistercian (Trappist) monastery, the Abbaye de Notre-Dame de Sept-Douleurs, at Latrun.
Christian leaders condemned the attack by what they called "forces of hatred".
Investigators are looking into whether it was carried out by extremist Jewish settlers, as the graffiti referred to the settlement outpost at Migron.
Three-hundred people were evicted from Migron last week, in line with an Israeli Supreme Court ruling that the outpost had to be demolished because it had been built on privately-owned Palestinian land.
The settler outposts are illegal under Israeli law and the government agreed to remove them under the 2003 Road Map peace plan.
'Criminal act'
The abbot at Latrun, Father Louie, said that at around 03:30 on Tuesday, a monk sleeping in one of the guest rooms had heard a noise, went outside and saw the door burning. The monks managed to put out the fire with an extinguisher, he added.
"I know there is some tension, but I don't understand why it has to do with us," Father Louie told Yedioth Ahronoth.
The monastery was also daubed with graffiti, including the phrase "Jesus is a monkey" and the words "mutual responsibility", along with the names of the settler outposts of Upper Migron and Maoz Esther.
The BBC's Jon Donnison in Ramallah says such vandalism is sometimes referred to as a "price-tag" attack, where settlers retaliate against Israeli government curbs on settlement growth, generally by attacking Palestinian property but occasionally by vandalising religious sites.
In a statement signed by the Latin Patriarch for Jerusalem Fouad Twal and Giorgio Lingua, Apostolic Nuncio for Jordan, the Assembly of Catholics Ordinaries of the Holy Land said it had been horrified by "another in a long series of attacks against Christians and their places of worship".
"What is going on in Israeli society today that permits Christians to be scapegoated and targeted by these acts of violence?" it asked.
"What kind of 'teaching of contempt' for Christians is being communicated in their schools and in their homes? And why are the culprits not found and brought to justice?"
Israeli Prime Minister Benjamin Netanyahu also denounced the attack.
"This is a criminal act and those responsible must be severely punished," he said. "Religious freedom and worship are two of the most basic institutions in Israel."