Bahrain appeal court upholds activists' convictions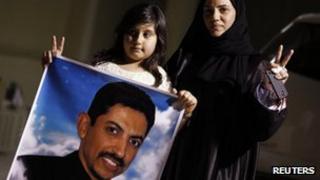 An appeals court in Bahrain has upheld the convictions of 20 activists and opposition figures for allegedly plotting to overthrow the state.
The verdicts, originally issued by a military court following the crackdown on pro-democracy demonstrations last year, include eight life sentences.
Among those convicted was Abdulhadi al-Khawaja, who went on a 110-day hunger strike in protest at his detention.
The defendants, seven of whom were tried in absentia, plan to appeal.
Human rights groups have demanded their release and said no evidence was presented by the authorities at the trial showing the activists had used or advocated violence during the protests against King Hamad.
Also sentenced on Tuesday were Hassan Mushaima and Abdeljalil al-Singace, both leaders of an unauthorised Shia group, the al-Haq (Truth) Movement for Liberty and Democracy.
'Sham trial'
Bahrain has been wracked by unrest since demonstrators occupied a prominent landmark in Manama, Pearl Roundabout, in February 2011, demanding more democracy and an end to discrimination against the majority Shia Muslim community by the Sunni royal family.
At least 60 people, including several police officers, have been killed, hundreds have been injured and thousands jailed.
The protesters were forcibly driven out of Pearl Roundabout by security forces in March 2011, after the king declared a state of emergency and brought in troops from neighbouring Sunni Gulf states to restore order and crush dissent.
A special military tribunal, the National Safety Court, subsequently convicted 14 protest leaders, along with seven others tried in absentia, of plotting to overthrow the state. Abdulhadi al-Khawaja and seven others were sentenced to life in prison.
Human Rights Watch said the offences related to peaceful political activities, such as speeches they made, meetings they attended, documents found on their computers, as well as their calls for and participation in demonstrations during February and March 2011.
It was alleged that the group was held for a significant period of time in detention before being allowed to seek legal counsel. Allegations that the defendants made confessions under duress were reportedly not investigated and evidence obtained under torture was reportedly not excluded from the trial - in contravention of international law.
Despite such criticism, the National Safety Court of Appeal confirmed the convictions and the sentences in September 2011.
Then in November, the Bahrain Independent Commission of Inquiry (BICI) - a panel of human rights experts asked by King Hamad to look into the unrest - called for civilian retrials for those who had been convicted by military tribunals.
In January, Abdulhadi al-Khawaja and the others who were in the dock alongside him began a week-long hunger strike in protest at their convictions, and the continued suppression of dissent.
On 8 February, Mr Khawaja began a new hunger strike. Over the next two months he gradually reduced his glucose intake, which he had been taking along with water to sustain his heath, and was transferred to hospital in April.
Later that month, as outrage grew over the treatment of Mr Khawaja, the Court of Cassation revoked the judgement of the National Safety Court of Appeal and referred the defendants' case to the Criminal Court of Appeal. One person, Alhur Youssef al-Sumaikh, had his sentence reduced and was released because of time served.
State media said the 20 others had been granted a retrial, but their original convictions stood and they were not released, a decision criticised by the UN. The only charges dropped related to the freedom of expression, considered illegal by the National Safety Court.
Mr Khawaja appeared in court in a wheelchair on 22 May, where he told the judge that he was presiding over a "sham trial", that there was no legal excuse for his continued detention, and that he was ready to sacrifice his life to demand freedom.
But six days later, he ended his hunger strike. His wife, Khadija al-Mousawi, said this was in part because he was being force-fed by medics, something officials denied. He also faced pressure from friends and colleagues to cease the fast and felt the strike had achieved its goal of drawing the world's attention to the opposition movement, she added.