Spain evicts illegal migrants from islet off Morocco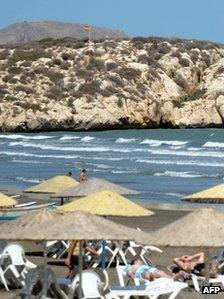 At least 80 illegal African migrants have been evicted from a Spanish islet off the Moroccan coast in a joint police operation by both nations.
Isla de Tierra, which lies within swimming distance of Morocco, is seen as an easy entry point into Europe.
The migrants reached the island last week while another group tried to cross a fence separating Morocco from the Spanish enclave of Melilla.
Authorities believe both actions were mafia-led human-trafficking attempts.
The Spanish-owned Isla de Tierra belongs to the Alhucemas archipelago near the Spanish territory of Melilla, one of the easiest gateways into Europe from Africa.
Melilla and Ceuta, another small Spanish enclave off Morocco's coast, attract hundreds of thousands of immigrants desperate to escape poverty and political unrest.
Spanish police said they evicted the migrants from Isla de Tierra early on Tuesday morning.
They are thought to all be from sub-Saharan Africa.
"Many of the immigrants did not want to go to Morocco, but there was no need to use force nor any troubles," a police spokesman said.
The migrants were handed over to Moroccan authorities, he added.
A total of 87 migrants had swum or waded to the uninhabited rocky island by Sunday, Spanish Foreign Minister Jose Manuel Garcia-Margallo told reporters earlier this week.
He said their arrival was co-ordinated by "mafia who traffic human beings", the AFP news agency reported.
Some women and children in urgent need of humanitarian help had been transported to nearby Melilla but the remaining 81 were left on the island with blankets, water and food, he added.
The surge of illegal immigration into Spain at the start of 2000 led Spanish and European authorities to reinforce security, constructing three parallel fences in Melilla and Ceuta.