Syria refugees reached record levels in August, says UN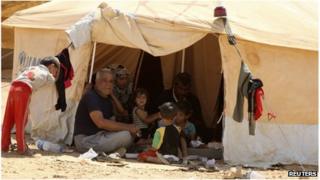 More than 100,000 Syrians fled their country in August, the UN says - the highest monthly figure since the conflict began in March 2011.
This almost doubled the total number of refugees to 235,300 in the space of a month, the UN refugee agency says.
The figures emerged as the head of the International Committee of the Red Cross (ICRC), Peter Maurer, met President Bashar al-Assad in Syria.
The ICRC said Mr Maurer had asked for better access for aid workers in Syria.
August was arguably Syria's most violent month yet, with the pro-opposition Syrian Observatory for Human Rights reporting more than 5,000 deaths.
The UN children's fund estimates that 1,600 people died last week alone.
'Tense and volatile'
The escalating fighting has led to what the chief spokeswoman for the UN High Commissioner for Refugees (UNHCR), Melissa Fleming, described as "an astonishing number" of refugees.
"It points to a significant escalation in refugee movement and people seeking asylum, and probably points to a very precarious and violent situation inside the country," she said.
The UNHCR says the total number of refugees from Syria who have either been registered or are awaiting registration now stands at 235,300, with 103,416 people seeking asylum in August alone.
But the unregistered numbers that have entered countries bordering Syria are thought to be even higher:
Turkey says it has taken in more than 80,000 people, with another 8,000 waiting at the Syrian border.
Jordan says up to 183,000 have entered the country since the uprising began - they are currently arriving at a rate of about 1,000 a day.
The UN says the number crossing into Iraq has risen to about 500 a day, compared with 500 a week in the first three weeks of August.
Lebanon, too, is struggling to provide shelter for the increased numbers of refugees - many who were staying in schools are now under pressure to move out because of the start of term.
The UN says the situation is precarious, with aid agencies struggling to prepare camps and distribute resources.
The ICRC described Mr Maurer's brief meeting with Mr Assad in Damascus as "positive", but warned that the humanitarian situation was deteriorating.
"There is a huge need for the organisation to be able to provide this humanitarian assistance to more people," spokeswoman Cecilia Goin told the BBC.
"The meeting between President Bashar al-Assad and President Maurer was in that sense positive, so we believe that we will be able to provide help to many more people in the next weeks."
Ms Goin said the organisation was planning to "scale up its distribution" of food parcels and other aid across Syria, but that it was still not possible to reach people in areas where fighting is taking place.
Syrian state television said President Assad supported the ICRC's humanitarian work in Syria as long as it remained "independent and impartial".
In Syria's second city, Aleppo, supplies are said to be dwindling, with access to parts of the city described as impossible.
The violence there has also continued - five people were reported killed and many others wounded in the northern province on Tuesday, a day after at least 25 deaths were reported in air strikes.
A Syrian army commander has reportedly vowed to recapture the city in 10 days, although a commander of the rebel Free Syrian Army insisted on Tuesday that his forces were "in control of the ground battle".
'More unity'
The new UN-Arab League envoy to Syria, Lakhdar Brahimi, is to address the UN General Assembly later on Tuesday before beginning a visit to Damascus at the weekend, where he will meet Mr Assad.
On Monday, Mr Brahimi told the BBC the task facing him was "nearly impossible".
China and Russia have both vetoed a succession of proposed UN Security Council resolutions on Syria and there is little sign of any agreement emerging during the next course of diplomatic progress.
The opposition Syrian National Council has reiterated its call for urgent international military intervention but China has warned that it opposes any such step.
Hours before US Secretary of State Hillary Clinton was due for talks in Beijing, a Chinese foreign ministry spokesman stressed the need for a political solution.
"The situation is worsening, but the worse the situation, the more unity is needed," Hong Lei was quoted as telling journalists by Reuters news agency.