Brahimi has 'no illusions' about 'toughest yet' Syria mission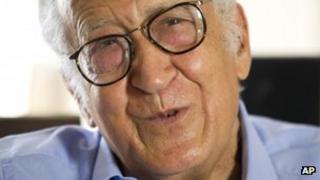 One of the UN's most experienced troubleshooters, Lakhdar Brahimi, has embarked on one of the world's toughest jobs with a bleak warning it may be "nearly impossible" for him to succeed in ending the violence in Syria.
But the 78-year-old veteran Algerian diplomat told me "perhaps a bit of vanity and an excessive sense of duty" led him to take over from Kofi Annan as the UN and Arab League's Syria envoy.
The former UN secretary general announced his resignation in August after six months of trying to get the warring sides in Syria, and their outside backers, to find a negotiated way out of what is now widely regarded as a civil war.
Mr Annan called it "mission impossible".
"I'm coming into this job with my eyes open, and no illusions," Mr Brahimi said in an interview in New York as he started his new assignment.
The mediator - who has taken on some of the most challenging tasks everywhere from Haiti to South Africa, to post-war Afghanistan and Iraq - pointed out he had "never been given any assignment that was easy".
He has admitted this may be the toughest yet.
No 'cosmetic change'
Mr Brahimi said political change in Syria was "fundamental and urgent". But he refused to be drawn, in his first days in the job, on whether President Bashar al-Assad should step down.
"Change cannot be cosmetic," emphasised a mediator known for keeping his cards close to his chest. "There will be a new order but I do not know who will be the people in the order. That's for Syrians to decide."
Mr Brahimi often deployed a "no victor, no vanquished" power-sharing approach in previous mediations, including the Taif Agreement of 1989 which ended Lebanon's punishing 15-year civil war.
His cautious stance has already been condemned by Syrian opposition groups.
But Mr Brahimi said he gave them this message: "Please remember I am not joining your movement. I am working for two international organisations, the United Nations and the Arab League, and I do not speak the same language as you."
He reminded me that in an earlier interview, several months before the Arab Spring erupted in early 2011, he told me there would be revolutions across the region.
UN sources say Mr Annan felt he had no choice but to step down because he faced a "brick wall", including an "intransigent" Syrian government, escalating violence by opposition forces, and a paralysed UN Security Council where Russia and China vetoed resolutions put forward by Western and Arab nations to exert greater pressure on President Assad.
Mr Brahimi said he was now "standing in front of that brick wall, trying to find cracks that some see, and if they don't exist, find ways to go around that wall".
But he held out few glimmers of hope at the moment, saying so far he had not seen "any cracks" himself.
He said he had been in touch with Mr Annan during his six-month assignment, and "can't think of anything I would have done differently".
The focus of Mr Annan's effort was a six-point plan including a ceasefire - accepted by all sides but which never held. Many now describe it as irrelevant. But Mr Brahimi said he would now put that plan, and other instruments, into his own "tool box" to use or adapt, depending on the situation.
He said he "had ideas, but no plan yet" and wanted to talk to as many people as possible, including the authorities in Damascus, before he made any decisions.
UN sources who have worked closely with Mr Brahimi over many years say he will be more involved in the minutiae of the process, engaging personally with all the key players, and drawing on his own extensive experience and contacts in the region and beyond, not to mention his understanding of Arab politics including the language.
He plans to base his office in Damascus if possible, or in Cairo, to spend as much time as possible in the region. For now, he is based in New York, rather than Geneva where Mr Annan continued to reside.
Mr Brahimi has spent the past week in New York speaking to members of the UN Security Council, including Britain's Foreign Secretary William Hague, Russia's Foreign Minister Sergei Lavrov, and Susan Rice, US ambassador to the UN.
"They all expressed support and thanks that I accepted this difficult mission. Now we have to translate that individual support into collective support."
Little optimism
Mr Brahimi forcefully rejected a growing assessment that Syria's government and opposition forces now regard this conflict as an existential battle.
"I have been going to Syria for 50 years or more and have seen this mosaic of communities... who put their Syria identity first," Mr Brahimi emphasised. "I refuse to believe Syrians will forget that, go back to narrow identities, and find it indispensable to kill their neighbour."
When he formally accepted this job, Mr Brahimi publicly told the UN Secretary General Ban Ki-moon he was "honoured, flattered, humbled, scared".
What scares him?
"I am scared of the weight of responsibility," he explained. "People are already saying 'people are dying and what are you doing to help?'"
He admitted: "We are not doing much."
There's little optimism anywhere much can be done. Even Mr Brahimi sees his job as keeping expectations low.
Watch the Lakhdar Brahimi interview on BBC World News at 15:30 GMT and 20:30 GMT.