Gaza teenager dies after self-immolation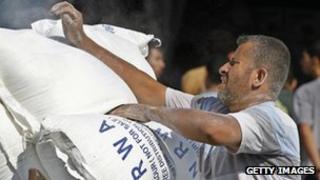 A man has died in Gaza after setting himself alight in apparent protest against his family's living conditions, Palestinian officials say.
Mohamed Abu Nada, 18, had poured petrol over himself after walking into the morgue at Shifa hospital in Gaza City last Thursday, doctors said.
His father said he had sent his son out to look for work because the family was struggling to make ends meet.
Unemployment in Gaza is around 30%, according to the United Nations.
Some 80% of families in the Palestinian territory are said to receive some sort of food aid from UN agencies and other international organisations.
Although there have been some previous incidents of Gazans setting fire to themselves because of hardship, this is thought to be the first fatality.
The UN has been highly critical of the blockade on Gaza which Israel and Egypt tightened when Islamist group Hamas seized power in 2007, the BBC's Jon Donnison reports.
Hamas health ministry spokesman Ashraf al Qedra said Mohamed Abu Nada died of his wounds on Sunday night.
"I asked my son on Thursday to go and look for a job because I don't have a job and we don't have any source for living," the teenager's father was quoted as saying.
Our correspondent says this self-immolation will be a reminder for some of the death of Mohamed Bouazizi, the 26-year-old Tunisian fruit and vegetable seller whose protest against economic conditions was widely seen as the event that prompted the so-called Arab Spring.
A year ago, a man in Gaza doused himself in petrol and set himself on fire in front of his children, reportedly after his salary was cut by the Palestinian Authority. He is still being treated in hospital.
In recent months, two Israelis have died of their injuries after setting themselves alight in protest at government welfare cuts and the rising cost of living.