Syria conflict: Explosion 'hits Damascus security area'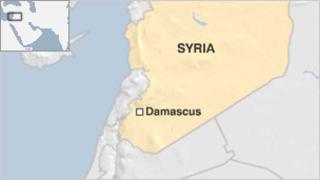 An explosion has hit an area of the Syrian capital Damascus in which major military and security compounds are located, reports say.
The blast took place in the Mehdi area of Abu Remmaneh district, according to state TV and residents.
The TV described the blast - involving two bombs - as "terrorism" and said four people had been lightly injured.
Rebels and government forces have been involved in a fierce battle for Damascus since July.
The building affected was a base for officers guarding the joint chiefs of staff offices nearby but was empty at the time, officials said.
Video footage of the blast taken by opposition activists purportedly showed white smoke rising from the area, while state TV showed damaged vehicles.
Earlier state media reported that a car bomb had exploded on Saturday in a southern suburb of the city killing at least 15 people.
The bomb, in the Sbeneh district, caused extensive damage to nearby buildings.
It hit close to a Palestinian refugee camp, in a poor neighbourhood where anti-government feelings are said to be strong.
The blasts come a day after the new UN-Arab League envoy, Lakhdar Brahimi, took up his post.
Bomb attacks in Damascus and the largest city Aleppo have become increasingly frequent in recent months, with the authorities often blaming them on "armed terrorist gangs".
Opposition activists estimate over 20,000 people have died in the wider conflict since March 2011, with over a million thought to be displaced.