'Difficult' demand for refugee camps in Syria vexes UN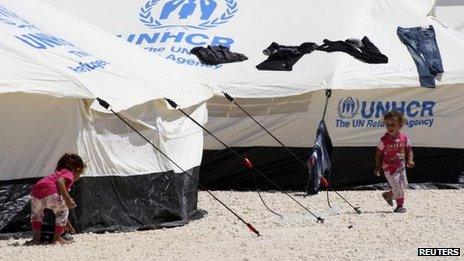 The UN Security Council has discussed a request by Turkey to create refugee camps inside Syria.
Turkey's foreign minister told the council to act "without delay", but the UN deputy head said the issue raised "serious questions".
The opposition Syrian National Council has again demanded a no-fly zone.
Earlier, Egypt's president prompted a walkout by Syrian delegates at a summit in Tehran, when he called Syria an "oppressive regime" without legitimacy.
Fighting continued in Syria on Thursday, with rebels saying they had shot down an air force fighter jet in the north-western province of Idlib.
Activists said government forces had responded with shelling in the province, killing 20 people, including eight children.
Turkish Foreign Minister Ahmet Davutoglu demanded immediate UN action to set up refugee camps inside Syria.
"How long are we going to sit and watch while an entire generation is being wiped out by random bombardment and deliberate mass targeting?" he said.
Mr Davutoglu said more than 80,000 Syrians had fled to Turkey, with another 4,000 crossing each day, and 10,000 more waiting at the frontier.
He has said Turkey will not be able to cope when the number reaches 100,000.
However, ahead of the UN meeting, UK Foreign Secretary William Hague said there would be "considerable difficulties" with the idea.
"We have to be clear that anything like a safe zone requires military intervention and that of course is something that has to be weighed very carefully."
But Mr Hague added: "We are excluding no option for the future."
France's Foreign Minister Laurent Fabius said "large-scale" military resources would be needed to protect refugees but if the conflict worsened "we will have to look at the different solutions".
Going into the UN meeting, the organisation's Deputy Secretary-General Jan Eliasson said of the camps issue: "Such proposals raise serious questions."
The Security Council remains deeply divided on Syria, with both Russia and China staunchly opposed to any external intervention.
They are unlikely to back any military element to the creation of refugee camps.
The difficulties were highlighted by the fact that of the 15 council members, only France, Britain, Colombia, Morocco and Togo sent ministers to the current meeting.
On Wednesday, Syrian President Bashar al-Assad dismissed as "unrealistic" the idea of creating humanitarian buffer zones within Syria.
The Syrian National Council again called for a no-fly zone, to cancel the government's air power monopoly.
In their joint press conference, Mr Hague and Mr Fabius also announced new financial help for the UN's refugee work in Syria.
France will add 5m euros ($6.2m) to its current 20m euro pledge and the UK will add £3m ($4.75m) to its £27.5m commitment.
Both called on other nations to increase their pledges.
Earlier, Egyptian President Mohammed Mursi, making the first visit to Iran by an Egyptian leader since 1979, told the Non-Aligned Movement (Nam) summit in Tehran that the Syrian uprising was a "revolution against an oppressive regime".
He told delegates of the 120-member body: "Our solidarity with the struggle of the Syrian people against an oppressive regime that has lost its legitimacy is an ethical duty, as it is a political and strategic necessity."
His comments sparked a walkout by the Syrian delegation.
Syria's Foreign Minister Walid Muallem said Mr Mursi's speech "incites continued bloodshed in Syria".
The US, which questioned Mr Mursi's attendance at the summit, praised his "very clear and very strong" remarks.
The BBC's Iran correspondent, James Reynolds, says Tehran's hope for the summit was to show the West the Islamic Republic had plenty of friends elsewhere, but Mr Mursi's comments would certainly have upset the hosts.
Iran has been solid in its support for the Assad government.
Our correspondent says that for many years both countries have seen themselves as the natural leader of the Middle East and this fight is being played out at the summit.
Separately on Thursday, in an interview with BBC Arabic, the Chairman of the US Joint Chiefs of Staff Gen Martin Dempsey warned that Syria might turn into "a failed state" as there was no end in sight to the conflict.
"It will be a terrible outcome, especially for the Syrian people, but also for the region," he said.
In Thursday's fighting in Syria, Free Syrian Army chief for Idlib province, Col Afif Mahmoud Suleiman, told Agence France-Presse: "A MiG [fighter] was shot down this morning by our men using automatic weapons, shortly after taking off from Abu al-Zohur military airport."
Amateur footage broadcast by Arabic satellite TV stations of the purported incident showed smoke billowing and two figures parachuting to the ground.
The UK-based opposition activist group, the Syrian Observatory for Human Rights, said that 20 people, including eight children and nine women, were killed in bombardments by security forces in Abu al-Zohur that were carried out in response to the rebel attacks.
Clashes were said to be continuing elsewhere in the country on Thursday, with activists reporting pre-dawn fighting in the eastern suburbs of Damascus.
Activists also said fierce fighting was continuing in the bitterly contested commercial city of Aleppo.
Related Internet Links
The BBC is not responsible for the content of external sites.