Has Israeli firm cracked electric car angst?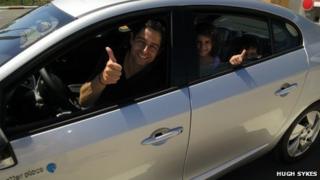 The BBC's Hugh Sykes tests out a new electric car that allows Israeli drivers to zip all over the country, without worrying about flat batteries.
I wish I'd thought of it. It's so obvious.
One of the greatest mental barriers to buying an all-electric car is what is known as "range anxiety".
When the battery runs down, it can take anything up to eight hours to re-charge it. So you're stuck.
The Renault Fluence ZE (zero emissions) has a removable battery which can be swapped for one that has been recharged.
For anyone who cooks with gas from a cylinder of butane in the kitchen, it is a familiar principle. When the gas is running down, you do not wait to fill it up - you change it for a full one.
An Israeli company called Better Place is doing exactly that with the lithium-ion battery in the Renault Fluence. Their zero emission model is manufactured in alliance with Better Place and Nissan.
Switch points
There is a network of dozens of "switch stations" around Israel - they look like a car wash but without nozzles or brushes.
You drive in, and robotics take over - removing the battery from under the car and replacing it with one that has been charged. The switch lasts about five minutes.
The battery weighs 250kg (equivalent to the weight of about three adult men) and it takes up a large space behind the back seat, but there is still plenty of room for luggage as there is no petrol tank.
The driving range on a full battery is about 185km (115 miles). This may not sound a lot, but it is quite enough for a small country like Israel, where a drive from the Red Sea to the Lebanese border is about 450km, with switch stations en route.
There is a navigation computer called Oscar on board the Fluence - it is programmed with the locations of all the switch points, and it warns drivers when a battery needs replacing.
There are also numerous conventional charging "poles"; on average, cars are parked for 22 hours out of 24, so an electric car can be recharged while you work or sleep - without even needing a battery switch.
The all-electric Fluence costs about the same as comparable petrol cars, like the Ford Focus. And on the road it feels like an ordinary car with good acceleration, but quieter.
When you buy a Fluence, you don't buy the battery - you pay a separate monthly charge for it and for access to the switch stations. This fee is based on how far you drive the car.
In Israel, where there are about 400 Renault ZEs on the road, the average battery lease fee so far has been about $80 (£54) a month.
Foreign interest
That did not deter a Tel Aviv lawyer, Eitan Fono. I met him half an hour after he had bought a new Fluence ZE. He was driving into a switch station with a grin on his face.
"What a dream," said Mr Fono, "no more petrol stations!"
Better Place is also rolling out its system in Denmark. And, in the Netherlands from early September, some of the taxis from Amsterdam airport to the city centre will be Fluence ZE's with their own switch station.
The company's investors include General Electric and HSBC. They have just secured a 40m euro (£32m) loan from the European Investment Bank.
In an economic climate in which banks are still reluctant to lend to anyone, that is quite an endorsement.
That loan helps, but it is relatively small. Since the company was founded five years ago, it has raised about $800m of private capital. But over the past 30 months, its losses have built up to $477m, according to one of its main investors, the Israel Corporation.
The Better Place system is hugely expensive - especially the batteries and the switch stations. To make money, the company needs thousands of customers to buy the Fluences. Only a few hundred have been sold.
Campaigners for genuinely "green" energy have one major objection to this system - the batteries are mostly charged using electricity from the public grid.
In Israel, despite its ample allocation of Mediterranean sunshine, most electricity is generated in conventional power stations that use non-renewable coal, fuel oil or natural gas.