War talk fails to dampen spirits in Tel Aviv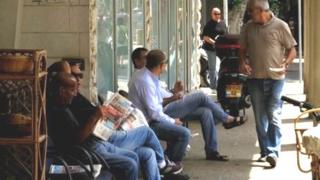 The possibility of conflict with Iran might be a hot topic of discussion in Israel, but it does not feel like a country hunkering down for war, reports the BBC's Hugh Sykes in Tel Aviv.
The beaches in this coastal city are heaving with holidaymakers. Restaurants, clubs and bars are packed with happy diners, drinkers and dancers.
In one cafe, couples were tapping their feet to Leonard Cohen's Dance Me to the End of Love.
They were not wearing flak jackets. Or carrying gas masks.
But some are taking precautions.
Israelis fearful that an attack on Iran might bring revenge rockets from Hezbollah have collected gas masks from distribution centres.
Deep beneath the Habima national theatre, part of an underground car park has been set aside as a shelter for 1,600 people.
During the 1990-91 Gulf War, 39 Scud missiles from Iraq landed in Tel Aviv and in Haifa. Three people died, and more than a thousand Israelis had to stay in hotels while Scud damage to their apartments was repaired.
But it was not the Blitz. During the six months from September 1944, nearly 3,000 German V1 Doodlebug cruise missiles and V2 rockets fell on London. Nine thousand Londoners were killed, and more than 25,000 were injured.
And Iraq's rocket assault on Teheran during the Iran-Iraq war in the 1980s killed an estimated 2,000 people.
'Limited threat'
Iran this month unveiled a new ballistic missile - the Fateh-110. President Mahmoud Ahmadinejad said it was designed to help Iran to defend itself.
Iranian missiles are not believed to be capable of inflicting serious damage here in Israel.
An expert on missile defence technology at MIT, Professor Theodore Postol, told the BBC earlier this year that the current threat from Iran's ballistic missiles was limited.
"There is no realistic threat to troops, cities, oil refineries, and the like from Iranian ballistic missiles," he said.
"They can simply not carry large enough conventional munitions to do extensive damage... and they lack the accuracy to hit prescribed targets with reliability."
But the rhetoric from Tehran has become more threatening.
Iran's supreme leader Ayatollah Khamenei described Israel as "a Zionist cancerous tumour".
He looked forward to the day when "the Zionist regime will disappear from the landscape of geography".
All talk?
In a shopping centre in Tel Aviv, mother of two Khaia Lavi told me, "Iran does not love us. I believe they want to destroy us. I believe it in all my heart."
I asked her if she believed Israel should attack Iran. "Yes, but not alone, not alone."
I suggested to her that an attack by Israel on Iran might put Israel in danger.
"This is our fear," she said. She has collected gas masks for her family. And, like most recently built Israeli homes, they have a blast-proof safe room inside their apartment, with a filtered air supply.
Numerous reports suggest that the Prime Minister Benjamin Netanyahu and his Defence Minister, Ehud Barak, are planning a unilateral attack on Iran to halt the nuclear weapons programme, which Iran says does not exist.
But the Israeli President, Shimon Peres, argues that Israel should not attack Iran without the approval and support of the United States.
And the former chief of the army Shaul Mofaz, and the recent head of the Mossad external security agency, Meir Dagan, are also opposed to an attack on Iran now.
A Tel Aviv taxi driver - Itzig Schleiffer, who was born in Germany in 1946 and who came to Israel when he was two years old - says there is so much talk about war that it is unlikely to happen.
"If you talk too much, you don't do anything," he told me, "Don't talk, do!"
And a businessman, who just wanted to be named as Ofer, said the admittedly poisonous rhetoric from Iran did not justify war.
"You can call me a cancerous growth if you like," he laughed, "but this does not mean I have to kill you."
Some commentators here argue that the Israeli prime minister's talk of imminent war with Iran is just rhetoric, designed to put pressure on President Obama to impose stricter sanctions on Iran.
Others argue that Mr Netanyahu wants to keep Iran on the front pages in order to persuade voters to support Mitt Romney in the US presidential election in November. He is perceived as more supportive of Israel than Barack Obama.
'Terrorist acts'
Front pages here have been dominated by a different threat - Jews attacking Arabs. There have been two chilling incidents.
In central Jerusalem one night last week, a group of male and female Jewish teenagers attacked three Arabs as they walked through Zion Square in the city centre.
One, Jamal Julani, was so seriously injured that he had to be resuscitated with a defibrillator and 10 minutes of CPR to keep his lungs oxygenated and his heart pumping. Five of the teenagers have been arrested.
Both of the leading English-language newspapers - the Jerusalem Post and Haaretz - at first reported this as a "lynching". Then they dropped the quotation marks. A lynching.
A Haaretz columnist, Eyal Megged, described it as "a Jewish mob attack."
In the other incident, near a West Bank settlement, a fire-bomb was thrown at a Palestinian taxi, wounding six passengers. Three 13-year-old youths from the settlement have been arrested.
The deputy prime minister Moshe Yaalon described these two attacks as "terrorist acts."
And - referring to existential fears about Iran - the columnist, Eyad Megged, wrote: "A Jewish mob attack on Arabs is far more dangerous than the Iranian menace... a Jewish mob is the real existential threat.... the eradication of the domestic racist blight should come before the eradication of the foreign nuclear one."
But such racism is absolutely not universal here.
For the three-day Muslim festival of Eid-al-Fitr, which ends the fasting month of Ramadan, the ministry of defence approved permits for 130,000 West Bank Palestinians to enter Israel and visit those beaches in Tel Aviv.
Yes, 130,000. They cooked kebabs on barbeques on the sand, and they danced in the surf - the women fully clothed and wearing their headscarves.
For many of them, it was the first time in their lives that they had seen the sea.
Another Haaretz writer, Gideon Levy, commented: "Why can't this happen twice a year? In fact, why not every day, damn it?"