Egypt migrants killed in Mediterranean capsize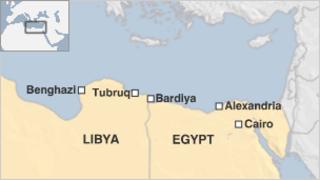 A boat carrying Egyptian migrants thought to be on their way to Europe has capsized in the Mediterranean, with more than 30 people feared dead.
Their vessel sank off the coast of Libya on Saturday night, and three bodies have so far been washed up.
A survivor raised the alarm, telling the authorities there were 40 people on board.
Thousands of North African migrants make the dangerous journey to Europe every year.
Many head to Libya overland to make the boat journey across to Italy.
However, since the fall of Libyan leader Muammar Gaddafi, the land borders with Egypt have become more secure, forcing Egypt's would-be emigrants onto the sea.
Egypt's foreign ministry said the boat was part of a three-vessel convoy heading towards Europe.
Survivor Mohamed Gomaa Abdel-Kader, 23, told authorities that 40 people were on the boat when it sank.
He said the vessel was a small fishing boat designed to carry no more than 15 people.
When the boat began to list under the weight, many of the migrants jumped overboard.
Some reports said Mr Abdel-Kader was the only survivor, but other accounts said five others had been pulled from the sea alive.
Egypt says it has launched a search and rescue operation.