Dust and memories of death in Jordan's Zaatari camp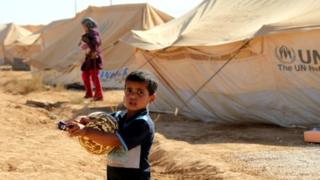 The air rings out with the sound of children singing an Arabic nursery rhyme about farm animals - there is clapping and a lot of jumping.
This may seem like a normal play day anywhere in the world but a closer look at the children's dusty and tired faces tells a different story.
This is not a nursery, there are no pictures on the walls. In fact, there are no walls.
This is a refugee camp. And these children, standing in a big circle in a hot tent, have not been able to play for many months.
They fled the violence in Syria and are now learning to make friends, in this makeshift activities area.
Just over the border from Syria, in Jordan, the Zaatari camp houses more than 14,500 refugees.
Night arrivals
This number continues to grow as hundreds, and on some days thousands, cross the border every day.
"We started with 500 refugees when the camp opened, now we have 14,500," says Ali Bibi, a UN refugee agency liaison officer in Jordan.
A record of 2,200 people crossed the border overnight and were received at Zaatari camp, according to the agency.
"The numbers vary with the political and military situation on the Syrian side. On average, we receive between 300-500 refugees. Some days the number is as low as 50 and other days it is in the thousands, like last night," he says.
In a small and very basic playground, a group of children gather around two small green slides, others take to the swings and a group of girls run to the see-saw.
The heat and dust don't seen to faze them, they seem glad to finally be able to play outside, something they wouldn't dare do back home.
The organisers call this part of the camp the "Child Friendly Areas".
It is a group of tents where children can play and make friends. Organisers also plan to use it to help rehabilitate those who have witnessed horrific scenes during the conflict in Syria.
"We're trying to build programmes to improve the social and psychological situation of these children," Seba Abu Basla, head of programmes at Save the Children, explains.
"We try to help them deal with what they have seen and return to normality, if such a thing is possible in this camp," she continues.
Nabil Ghali, a Syrian refugee from the Syrian city of Homs, speaks of the fear his children experienced.
"The sound of shelling is what frightens them," he says.
"My kids have also seen terrible things. Body parts, blood, the snipers - they hated the sound of gunshots. It was fear, absolute fear. They were in the house all the time. They couldn't go out to play," he says.
Beyond imagination
Many of those children have made exhausting and sometimes frightening journeys with their families to cross the border from Syria to Jordan.
"They speak of their journey from their homes all the way to the camp," Seba Abu Basla says.
"The details are a blur, we are never sure if this is reality or the child's imagination because of the extent of the horror.
"Many of them say they could only move in the dark which meant they were holed up somewhere for the whole day with no food or water."
Deep inside the Zaatari camp, there is an endless sea of tents and the dust covers them all, turning them from white to bright beige.
The tents themselves are basic, with no electricity and no sanitation.
The refugees complain of the lack of water and proper toilets all the time. But what they complain of most is the dust.
Abu Yazan makes his way to the clinic tent at the French field hospital in the camp.
"I can't breathe. It's all this dust," he says. "I can handle everything else but not this dust."
Dr Menard Baptiste, the general co-ordinator of the camp's medical centre, says that many of the cases they see are a result of the harsh living conditions.
"It's mainly respiratory problems with exposure to dust."
The French hospital is one of two in the camp. There is also a Moroccan hospital, where some patients go after surgery if they need to be hospitalised for more than two days.
'Better than before'
The more severe or life-threatening cases are transferred from the camp to local hospitals in co-ordination with the Jordanian health ministry.
"We are very worried about epidemics too. We have to be very careful with measles. We have to be very careful with cholera. We're starting an immunisation campaign against measles soon," Dr Baptiste said.
In a small tent, Ahmed Yassin sits with his three children. He is trying to find out a way to charge his phone so he can call his parents back home.
He fled the border city of Deraa with his wife and children.
"If it weren't for them I wouldn't have left. But they became so traumatised with the sound of bullets and shelling I think they developed a complex. We had to go," he says, pointing at his children.
"I've had to say goodbye to everything and everyone I know - my parents, my friends."
"Moving from our house to this tent was difficult, it took us a few days to get used to. But this is better than staying there. It's better than before."