Bahrain: Nabeel Rajab acquitted of Twitter charges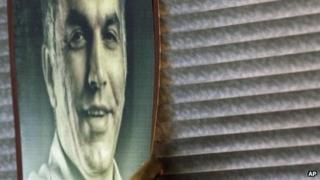 Bahraini rights activist Nabeel Rajab has been cleared of defamation by the Court of Appeals in Manama, Bahrain's Information Affairs Authority says.
He had been accused of libelling a town's residents on the social network Twitter.
Last week Rabab was sentenced to three years in jail for organising illegal protests during last year's uprising.
He is president of the Bahrain Centre for Human Rights and has frequently been detained.
A prolific Twitter user with more than 170,000 followers, Rajab was arrested in June and accused of publicly insulting residents of the town of Muharraq for their ties to the ruling dynasty.
He wrote on the microblogging site that Prime Minister Sheikh Khalifa bin Salman al-Khalifa should step down, and that Muharraq residents had only welcomed him during a visit because he had offered them subsidies.
In a statement, the Information Affairs Authority said his acquittal on defamation charges "was due to the judge's uncertainty regarding the evidence submitted to support the lawsuit".
Rajab plans to appeal against his existing three-year prison sentence, his lawyer Mohamed al-Jishi has said.
Last week, several members of US Congress wrote to the Bahraini King Hamad al-Khalifa expressing concern over Mr Rajab's case and urging the release of "Bahrainis being held for crimes related to freedom of expression".
On Thursday the King of Bahrain, Sheikh Hamad bin Isa al-Khalifa, was in London to meet British Prime Minister David Cameron.
Human rights groups have urged Downing Street to press the monarch to take action on rights abuses in Bahrain.