Syria crisis: Fighting continues in Damascus and Aleppo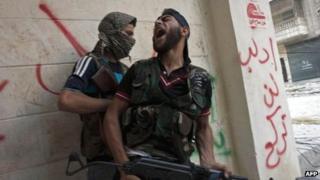 Syrian forces have used heavy artillery and air strikes against rebels in the capital Damascus and the country's largest city of Aleppo, activists say.
They say at least 41 people - including civilians - were killed in an artillery and helicopter bombardment of Damascus neighbourhoods over the last 24 hours.
Shells also hit rebel-held areas of Aleppo, the activists say.
Rights group Amnesty International warned that civilians there "are enduring a horrific level of violence".
A battle has been under way for a month in the commercial hub, whose fate is seen as key to the outcome of between rebel fighters and government troops of President Bashar al-Assad.
Across the country, at least 100 people died on Thursday, the Britain-based Syrian Observatory for Human Rights says.
The claim has not been independently verified.
'House-to-house raids'
At least 25 people were killed in Darayya - on the south-western edge of Damascus - on Thursday, opposition sources told Reuters news agency.
It was part of a wider government assault on the capital in the last two days that saw some of the worst fighting in the last month.
Soldiers shelled districts and conducted house-to-house raids, leaving casualties in their wake, reports say.
"They are using mortar bombs to clear each sector then they enter it, while moving towards the centre," activist Abu Zeid told Reuters news agency from an area adjacent to Darayya.
Local residents were also quoted as saying the army bombed the nearby district of Mouadamiya from the Qassioun mountain overlooking the capital.
Fighting also continued on Thursday in districts of Aleppo which the army had already claimed to have "cleansed" of rebels, the Observatory said.
Amnesty International has produced an 11-page briefing on the situation in Aleppo, based on first-hand investigations there during the first half of August.
The briefing, it says, "documents the Syrian government forces' increasingly frequent air and artillery strikes against residential areas, resulting in often indiscriminate attacks which seriously endanger civilians".
Over 10 days, it documented about 30 attacks in which civilians not involved in hostilities were killed or injured, with attacks often "randomly directed" at neighbourhoods held or occupied by rebels rather than at specific military targets.
"The use of imprecise weapons, such as unguided bombs, artillery shells and mortars by government forces has dramatically increased the danger for civilians," Amnesty's Donatella Rovera, who recently returned from Aleppo, is quoted as saying.
According to AFP news agency, Washington has despatched a nuclear-powered aircraft carrier to the region to deal with "threats" from Iran and watch over the situation in Syria.