Chemical weapons 'excuse for US to intervene in Syria'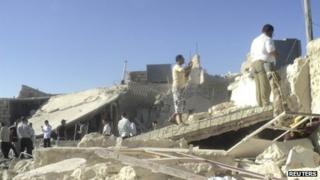 Chinese state media have accused US President Barack Obama of planning to use Syria's chemical weapons as an excuse for intervening militarily.
The state news agency, Xinhua, was responding to a warning from Mr Obama that Syria would be crossing a "red line" if it tried to use such weapons.
"Once again, Western powers are digging deep for excuses to intervene militarily," it said.
China and Russia have blocked attempts to impose UN sanctions on Syria.
Xinhua's commentary is not an official statement but it reflects fears among China's communist leaders that the West wants regime change in Syria under the guise of humanitarian action, the BBC's Damian Grammaticas reports from Beijing.
In Syria on Wednesday, government military operations intensified in the capital, Damascus, and in the second city, Aleppo, activists said.
Opposition activists say more than 20,000 people - mostly civilians - have died since the uprising against Bashar al-Assad began last year.
'Foreign crusades'
Earlier this week, President Obama said any use of chemical weapons by Syria would change his thinking on intervention in the crisis.
"There would be enormous consequences if we start seeing movement on the chemical weapons front or the use of chemical weapons," he said.
In its commentary, Xinhua criticised the remarks as "dangerously irresponsible" and said they would aggravate the conflict, reducing the chances of a political settlement.
It argued that "foreign crusades" by Western nations would simply lead to more violence and hatred in Syria, pointing to the examples of other interventions in Somalia, Iraq and Libya.
China insists a ceasefire and UN-led mediation remain the best ways to end Syria's woes.
Russia believes Syria has no intention of using its chemical weapons and is able to safeguard them, a foreign ministry source in Moscow told Russia's Kommersant newspaper.
A "confidential dialogue" with the Syrian government on the security of the arsenal has convinced Russia "the Syrian authorities do not intend to use these weapons and are capable of keeping them under control themselves", the unnamed source said.
The ministry also accused the West of doing nothing to urge the opposition to enter a dialogue with the Assad government.
Late on Wednesday, the office of the UK's prime minister said David Cameron had agreed in a telephone call with Mr Obama that the use or threat of chemical weapons was "completely unacceptable and would force them to revisit their approach so far".
Tank assault
Residents in Damascus said Wednesday's attack had been the heaviest since the army re-asserted its control of the capital last month.
An aerial bombardment preceded an assault by tanks on the neighbourhood of Kafar Soussa.
"The whole of Damascus is shaking with the sound of shelling," one woman in Kafar Soussa told Reuters.
Activists also reported house-to-house searches by government forces in the Nahr Eishah area.
A journalist working for the state-run Tishreen newspaper, Mosaab al-Odallah, was killed in the searches there, activists and friends said.
Odallah was said to be sympathetic to the opposition.
Activists said the two districts may have been targeted to root out rebels who have been using the area to launch attacks on the Mazzeh military airport.
There were varying reports of casualties in the capital, with activists putting the number of dead at between 23 and 40.
Fighter jets were also reported to be attacking Aleppo, where rebels claim to have taken 60% of the city.
The government denies the claim and a security source told AFP news agency: "Reinforcements from both sides are heading to Aleppo. It is a war that will last a long time."
According to a count by the opposition Syrian Observatory for Human Rights, 198 people were killed in fighting in Syria on Tuesday. The figure could not be verified independently.