Egypt requests $4.8bn loan from visiting IMF chief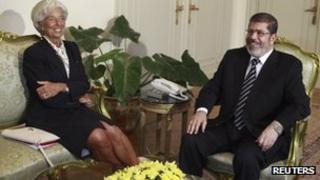 Egypt has asked the International Monetary Fund for a $4.8bn (£3bn) loan to help revive its struggling economy.
The request was made during talks in Cairo between President Mohammed Mursi and IMF chief Christine Lagarde.
Ms Lagarde said the IMF would respond quickly, while Prime Minister Hisham Qandil said he hoped the deal could be finalised before the end of the year.
It is needed to cover budget deficits resulting from shrinking tourism and foreign investment revenues.
Egypt's foreign reserves have fallen to well under half the levels seen before last year's popular uprising against former President Hosni Mubarak, when the central bank started to sell dollars to prop up the Egyptian pound.
The government is facing a balance-of-payments crisis and high borrowing costs, with local banks shouldering almost all short-term lending to the state, and experts say financial aid is urgently needed to avoid currency devaluation.
Egypt's budget deficit for the 2012-3 fiscal year is predicted to be 7.9% of gross domestic product (GDP), while it has internal debt of $193bn and foreign debt of $33.8bn.
'Very impressed'
Negotiations between Egypt and the IMF have been taking place in the 18 months since the overthrow of Mubarak, but no deal has been agreed because the IMF has demanded that any loan gets broad political support.
Now that Mr Mursi has formed a new government, and issued a decree wresting presidential powers and control of the budget from the military, correspondents say there are strong indications a deal will be done.
After meeting Ms Lagarde on Wednesday, Prime Minister Qandil said he expected the IMF loan would be for five years, with a grace period of 39 months and an interest rate of 1.1%.
The government had drawn up an economic plan that included strategies to reduce the deficit, boost investment and ensure subsides went to those most in need, he added.
"God willing there will be an agreement on a map for work extending to November or the beginning of December during which the loan will be signed with the IMF," he told reporters.
Ms Lagarde said the IMF had been "very impressed" by the government's strategy, but she stressed that they had not yet "gone into details" of either the amount or terms of the loan.
"The authorities have indicated that Egypt would like the IMF to support Egypt's economic programme financially to help the country recover and to lay the foundation for strong growth that benefits all," she said.
Egypt's Finance Minister Mumtaz al-Said has also asked the United States for a $500m grant to support the state budget.
Earlier this month, Saudi Arabia transferred $1.5bn as direct budget support, approved $430m in project aid and said it would allow the Egyptian government to use a $750m line of credit to import oil products.
Qatar has also said it will deposit $2bn at the Egyptian Central Bank.