Deadly clashes over Syria in Lebanese city of Tripoli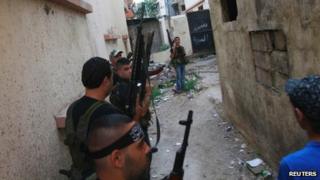 Three people have been killed in the Lebanese city of Tripoli in clashes between opponents and supporters of Syria's president, officials say.
Exchanges of gunfire continued through the night, involving the Sunni Muslim district of Bab al-Tabbana and the Alawite district of Jabal Muhsin.
At least 25 people were injured, including 10 soldiers.
Tensions over Syria have triggered clashes in Tripoli since February. In early June, 15 people were killed.
Syrian President Bashar al-Assad is an Alawite and members of the minority heterodox Shia sect occupy key positions in the Syrian government and security forces.
Syria's majority Sunni community has been at the forefront of the revolt against the president and has borne the brunt of the state's crackdown during the conflict, which the UN says has left more than 18,000 people dead.
Last week, the Sunni-ruled Gulf states of Saudi Arabia, the United Arab Emirates and Qatar urged their citizens to leave Lebanon immediately following a spate of recent abductions by a Shia clan in retaliation for the capture of one of their family members in Syria.