Israeli youths arrested over assault on Palestinians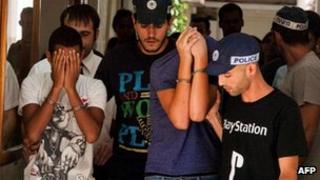 Seven Israeli youths have been arrested on suspicion of assaulting a group of Palestinians in Jerusalem last week.
Police said a brawl started after an Israeli girl complained that she had been harassed by an Arab.
A 17-year-old Palestinian was left unconscious and in a serious condition. Police said there were hundreds of bystanders, but none intervened.
Several of the suspects, who include a 13-year-old boy and two teenage girls, appeared in court on Monday.
They hid their faces from the cameras of waiting news photographers.
"For my part he can die," one of the suspects, who admitted taking part in the assault, was quoted as telling reporters by the New York Times.
"He's an Arab," he added. "He cursed my mother. If it was up to me, I'd have murdered him."
'Extremely severe crime'
Some Israeli media reports have described the attack as a "hate crime", saying it has exposed the tensions between the Israeli and Palestinian communities in Jerusalem.
The victim, Jamal Julani, is a resident of the Ras al-Amud district of East Jerusalem, which is predominantly Palestinian.
He said he had no memory of the incident on Thursday after regaining consciousness three days later, but his cousin, Mohammed Mujahid, said they had been walking along a road near Zion Square with four other friends when a group of about 40 or 50 youths began to chase them.
"They were shouting: 'Arabs, death to Arabs,'" he said.
An Israeli policeman said Jamal was beaten so severely that he lost consciousness and was thought to be dead until a paramedic crew arrived and resuscitated him.
"This was an extremely severe crime. Only a miracle saved him from death," Sgt Shmuel Shenhav told the Haaretz newspaper.
The Israeli government has condemned the attack.