World powers welcome Lakhdar Brahimi as new UN envoy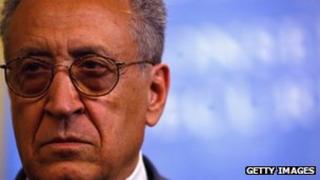 World powers have hailed the appointment of veteran Algerian diplomat Lakhdar Brahimi as the new UN-Arab League envoy for Syria.
US Secretary of State Hillary Clinton said Washington was ready to support Mr Brahimi, and Russia said it was ready for "close interaction".
Syrian Vice-President Farouq al-Shara is quoted as welcoming the appointment.
The 78-year-old succeeds Kofi Annan who resigned this month as his peace plan had failed to achieve a real ceasefire.
Meanwhile Syrian forces have launched new air and artillery strikes on rebel-held areas, in particular in the northern city of Aleppo, the pro-rebel Syrian Observatory for Human Rights said.
Fighting was also reported in various areas of the city. Homs in central Syria and Herak and Deraa in the south were subjected to bombardment, the Observatory added.
Syria's state-run media said that government troops in Aleppo had repulsed attacks by rebel forces near the airport on Friday.
'Ceasefire need'
Mrs Clinton said Mr Brahimi "will continue the pursuit of an end to the conflict and a peaceful transition in Syria".
"My message to special envoy Brahimi is simple: The United States stands ready to support you and secure a lasting peace that upholds the legitimate aspirations for a representative government of the people of Syria," she said.
Russia said it was "ready for close interaction with the new special representative ... with the aim of overcoming the crisis in Syria".
But its Foreign Minister, Sergey Lavrov was quoted by Russian media as saying that Mr Brahimi's efforts would be ineffective without a ceasefire.
"Political dialogue will not start, at least these efforts will not lead to a final result if violence does not cease. And that does not depend on Brahimi," he said.
The European Union also offered its full support, and China promised to "co-operate positively" with Mr Brahimi.
And in Syria, itself, Mr Shara's spokesman told the BBC he had welcomed the appointment and supported Mr Brahimi's insistence on obtaining a unified position in the UN Security Council.
Abdul Salam Hijab also denied recent rumours that Mr Shara, the most senior Sunni Muslim in the Damascus regime, had defected to the opposition and left the country.
Mr Brahimi, whose appointment came a day after the UN called an end to its military observer mission, has held a long series of high-profile diplomatic posts, notably as the UN's top envoy in Afghanistan in 1996-8 and 2001-4.
Analysts say he has a formidable reputation at the UN but is also seen as independent of the major powers.
Announcing his resignation earlier this month, Mr Annan had said he was unable to fulfil his role because of the growing militarisation of the conflict, as well as deadlock in the UN Security Council.
Russia and China have vetoed resolutions on the crisis three times, citing their opposition to any action which might be seen as regime change imposed from outside.
Co-operation from the Syrians was essential in order to find a peaceful resolution, Mr Brahimi told the BBC.
But he also insisted diplomatic efforts should not be abandoned.
"I might very well fail but we sometimes are lucky and we can get a breakthrough," he said.
Activists estimate about 20,000 people have died since anti-government protests erupted against the Assad regime in March last year. Tens of thousands of people have also fled the country.