Houla massacre: UN blames Syria troops and militia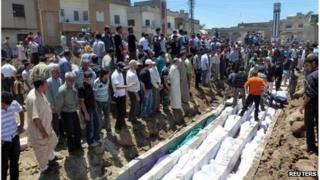 Syrian troops and militia were behind the Houla massacre of 108 people in May, UN investigators have concluded.
The massacre was considered one of the worst attacks on civilians since the start of the uprising in March 2011.
Meanwhile, at least 30 people were killed when warplanes attacked the town of Azaz near Aleppo, activists say.
As tensions from the crisis spill over into neighbouring Lebanon, Saudi Arabia has ordered its citizens to leave because of the risk of abduction.
In Azaz, rescuers tried to pull survivors out of the rubble of collapsed houses and casualties were rushed to a nearby field hospital.
Many people were wounded and the number of dead was expected to rise.
Among those killed in the raid on Azaz were four Lebanese Shia Muslims taken hostage by rebel forces in May, according to unconfirmed reports.
A Lebanese Shia clan said on Wednesday it had kidnapped 20 Syrians in Lebanon in an attempt to secure the release of man kidnapped by rebels in Damascus on Monday.
Brutal tactics
The report appointed by the UN Human Rights Council says war crimes have been carried out by both opposition groups and government forces.
It alleges that systematic violations have been authorised at the highest levels of the Syrian government.
Murder, torture and sexual violence are given as examples of violations by Syrian forces in the 102-page report, which looks at events between February 2012 and late July.
The report says ever more brutal tactics have been used. "Active hostilities raged between government forces [and the shabiha) and anti-government armed groups," it says.
It finds opposition forces guilty of war crimes but not of the same gravity or on the same frequency or scale as those blamed on government forces.
In particular, government troops and pro-government shabiha militia are found responsible for the killings at Taldou in the Houla area on 25 May, in which 108 people including 49 children died.
Although the Damascus government did not allow the team into Syria, the investigators spoke to almost 700 people, including civilians and former soldiers who have fled to neighbouring UN blames Syria for Houla deaths countries.
The report's publication came hours after an explosion in central Damascus near a hotel where UN observers have been staying.
At least three people were hurt when a bomb attached to a diesel tanker blew up, state media reported.