Iran quakes: Government 'to accept foreign aid'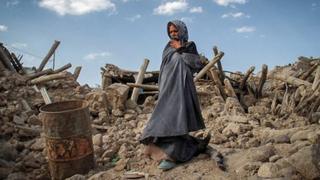 The Iranian government has said it will now accept offers of aid from some countries, after twin earthquakes killed more than 300 people in the country's north-west.
Some 3,000 people were injured during the 6.4- and 6.3-magnitude tremors in East Azerbaijan province.
Two people were pulled alive from the rubble in a village near Varzaqan three days after the quake, state TV says.
Iran's vice-president said that now the time was right for Iran to be helped.
"Now, and under the current circumstances, we are ready to receive help from various countries," Vice-President Mohammad Reza Rahimi was quoted as saying by state news agency Irna.
Iranian lawmakers have criticised the government for their slow response.
Lawmaker Masoud Pezeshkian said that when a quake causes "such a big loss, the main problem is mismanagement," according to AP, quoting local newspapers.
State television reports that at least 12 villages were destroyed and in 425 others, between 50% and 80% of buildings were damaged. Local hospitals are reported to be flooded with people needing treatment.
The pair rescued in the village near Varzaqan were reported to be in good health, despite having spent 72 hours buried in the rubble.
Iran is one of the world's most seismically active countries and relief operations are usually well rehearsed, correspondents say.
The government says it has provided shelter for about 50,000 people who lost their homes during the quakes and Iran's Red Crescent has already provided 6,000 tents.
Aftershock
There were reported to be long queues in the capital, Tehran, as people waited to donate blood.
According to the semi-official Fars news agency, 36 Turkish relief workers entered the country's north-western province of East Azerbaijan on Monday to begin deliver aid in co-ordination with Iran's Red Crescent. They were reported to have been initially denied access to the area.
On Tuesday, a sharp 5.3-magnitude aftershock rattled rural areas near the provincial capital Tabriz, sending people running on to the streets in fear, according to Tehran University's Seismological Institute.
Many in the city have been staying outdoors since the earthquakes struck, some sleeping in public parks.
The aftershock jolted the town of Varzaqan - one of the epicentres of Saturday's quake, Fars reported.
Iran straddles a major geological fault line, making it prone to seismic activity. In 2003, an earthquake in the city of Bam left more than 25,000 people dead.