Israeli ex-soldier cleared of Gaza manslaughter charge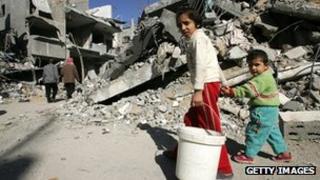 Israeli prosecutors have dropped a manslaughter charge against a former soldier in connection with the deaths of a Palestinian woman and her daughter during the offensive on Gaza in 2009.
But the sergeant was jailed for 45 days after being convicted of unlawful use of a firearm in a separate incident as part of a plea deal, his lawyer said.
He was the only soldier to be charged with manslaughter after the offensive.
The women were reportedly shot as they fled their home carrying a white flag.
Israel said it launched Operation Cast Lead in response to repeated rocket attacks on its territory. Some 1,400 Palestinians were killed during the three-week conflict, including hundreds of civilians, as well as 13 Israelis.
'White flags'
In July 2010, Sergeant "S", a sniper in the Israeli army's Givati Brigade, was charged with the manslaughter of Rayah Abu Hajaj, 64, and her 37-year-old daughter, Majda.
According to the Israeli human rights group B'Tselem, the women were shot dead as they tried to escape fighting in the Juhar al-Dik district of Gaza City on 4 January 2009.
They had been among a group of about 30 people, some holding white flags, who had walked out of a house after being informed that Israeli soldiers had ordered them to walk towards the city centre, witnesses said.
When they saw Israeli tanks about 150m (500ft) away, the two men at the front of the group reportedly waved their flags, and the children in the group sat on the ground. Then suddenly, and without warning, shots were fired at the group, killing Majda Abu Hajaj and her mother, the witnesses alleged.
The sergeant was accused of opening fire without having received orders to do so from an officer who had been by his side at the time.
But on Sunday, the Israeli military announced that an investigation had found problems with the evidence which meant prosecutors believed it would not be possible to prove the sergeant had fired the fatal shots.
Prosecutors said the women's bodies had not been presented for examination, and that many Israeli soldiers had been shooting in the area at the time. There were also discrepancies between the accounts of Israeli soldiers and those of the Palestinian witnesses, they added.
Instead, the sergeant agreed to a plea bargain that saw him convicted of the illegal use of firearms relating to the killing on 5 January 2009 of an unidentified individual - not Rayah or Majda Abu Hajaj - and sentenced to 45 days in prison, his lawyer Oded Saburai told reporters.
B'Tselem said that if prosecutors accepted the claim that there was no connection between the shooting the sergeant had admitted to and the killing of the two women, it meant that the investigation into the latter incident had not been completed. It urged prosecutors to solve the case and hold accountable those responsible.