US and Turkey to set up Syria crisis working group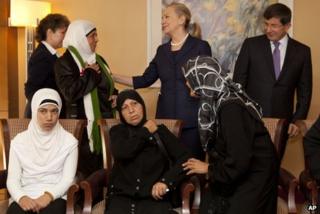 US Secretary of State Hillary Clinton has said a working group will be set up with Turkey to plan a joint response to the Syrian crisis.
She said after talks in Istanbul that she had discussed with Turkey's foreign minister how best to support opposition to President Bashar al-Assad's rule.
The US, she said, was also increasing aid for Syrian refugees.
Numbers of civilians fleeing violence in Syria have surged, according to the United Nations.
Turkey, like all of Syria's neighbours, is dealing with a growing humanitarian crisis as thousands of refugees flood across the border.
Rebels in the northern city of Aleppo say they are preparing a counter-attack after withdrawing from the strategic south-west district of Salah al-Din under heavy bombardment.
Turkey is currently supporting more than 50,000 Syrian refugees, with more arriving every day.
In another development, Arab foreign ministers are to meet in the Saudi city of Jeddah on Sunday to discuss the Syrian crisis, Egyptian state TV reports.
Chemical weapons fear
Mrs Clinton told reporters that she and her Turkish counterpart, Ahmet Davutoglu, had discussed how to support the opposition in Syria in its "efforts to end the violence and begin the transition to a free, democratic Syria without Assad".
"Our number-one goal is to hasten the end of the bloodshed and the Assad regime," she said.
"Our intelligence services, our military have very important responsibilities and roles to play so we are going to be setting up a working group to do exactly that."
A "range of contingencies" was discussed, including the possible use of chemical weapons by the Assad government, Mrs Clinton added.
She said two million people were in need of humanitarian assistance in Syria.
Mrs Clinton announced an extra $5.5m (£3.5m) in help for displaced Syrians in Turkey, saying this would bring US aid to Syria to $82m.
The US secretary of state later held talks with Turkish Prime Minister Recep Tayyip Erdogan and President Abdullah Gul, before leaving to return to Washington.
Army shelling
Gunfire and bomb were reported in several parts of Damascus on Saturday. Syrian TV said security forces were pursuing a "terrorist group" after two bombs were detonated in central districts of the capital.
One resident told Reuters news agency there was also fighting near the central bank.
On the northern outskirts of the city, the army pounded al-Tal district where the government says gunmen kidnapped three journalists from a pro-regime TV station on Friday, AP news agency reports.
Violence erupted again between the rebel Free Syrian Army (FSA) and government forces in the country's largest city, Aleppo.
Activists said the army pounded areas south-west of Salah al-Din, from which the rebels retreated on Thursday.
On Friday journalists from Reuters news agency reported seeing residents fleeing Aleppo, taking advantage of a lull in the fighting.
Such reports are difficult to confirm, because of restrictions on reporters working in Syria.
President Assad is facing strong international pressure to step aside despite 17 months of anti-government protests and escalating violence.
He has suffered a string of high-status defections, including his former Prime Minister Riad Hijab, who fled to Jordan earlier this week.