Syria conflict: Aleppo districts 'under fresh assault'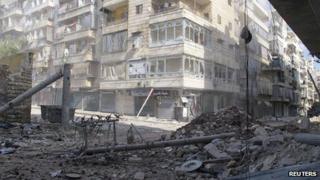 The Syrian city of Aleppo has come under fresh bombardment, activists say, as the government attempts to retake districts seized by rebel fighters.
Several areas of the city were reported to have come under attack, including strafing from helicopter gunships.
The rebels say they have completely withdrawn from the embattled Salah al-Din district "in a tactical move".
The fighting comes as Iran prepares to host its own international meeting on the Syrian crisis.
Iran, Syria's only regional ally, says it will be attended by countries with a "realistic" position on the crisis.
But it is unclear exactly which countries will be attending the summit, held in Tehran.
Western governments have expressed scepticism that Tehran can mediate, because of its close relationship with the government of Syrian President Bashar al-Assad.
A new prime minister, Wael al-Halqi - the former health minister - has been appointed, state television has announced.
He replaces Riad Hijab, whose defection to the opposition was announced on Monday and who was said to have crossed into Jordan on Wednesday.
Conflicting claims
The Free Syrian Army (FSA) has confirmed it has retreated from the strategic Salah al-Din district, a densely packed area of narrow streets.
"We have staged a tactical withdrawal from Salah al-Din," rebel commander Hossam Abu Mohammed of the Dara al-Shahbaa Brigade in the northern city told the AFP news agency by phone.
"The district is completely empty of rebel fighters. Regime forces are now advancing into Salah al-Din."
State media had earlier said the army was now in full control of the district, reporting that hundreds of "terrorist mercenaries" had been arrested or killed.
On Wednesday, Syria's state military launched a large operation to retake Aleppo from the rebel fighters, who overran some districts three weeks ago.
Aleppo is Syria's largest city, and Salah al-Din is considered a vital supply route for government troops coming from the south.
There were reports of further clashes overnight in the districts of Hanano, Saif al-Dawla, Shaar and Shakur, said the UK-based Syrian Observatory for Human Rights, quoted by AFP.
The Local Co-ordination Committees network of activists also reported shelling and gunfire in several districts.
The Syrian Observatory said at least 26 people were killed in Aleppo on Wednesday - it said they were among 130 people killed across the country.
Iranian President Mahmoud Ahmadinejad has said the foreign ministers' summit in Tehran will be a gathering of countries with "a correct and realistic position" on the Syrian conflict.
He said it would be an opportunity "to replace military clashes with political, indigenous approaches to settle the disputes".
Foreign Minister Ali Akbar Salehi was quoted by state media as saying "12 to 13 countries from Asia, Africa and Latin America" would be taking part, but did not name them.
Kuwait's foreign ministry told al-Seyassah newspaper it would not be sending a representative. Lebanon has also said it will not attend while Russia is sending its ambassador and not Foreign Minister Sergei Lavrov.
The BBC's Jim Muir in Beirut says this is a meeting of people who are already close to Tehran and to the Syrian regime.
There is deep scepticism in the West about Iran assuming a peacemaker role, given its recent strong commitments to the survival of the Assad government, our correspondent adds.
Earlier this week, Iran's security chief Saeed Jalili visited President Assad in Damascus, to pledge Tehran's support.
Mr Jalili said Syria was one part of a vital regional alliance which he described as the "axis of resistance", which Tehran would not allow to be broken.