Iran says retired Guards among hostages held in Syria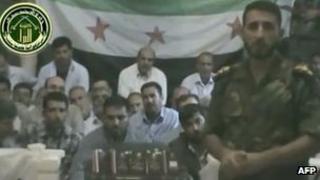 The Iranian foreign minister has said a group of 48 Iranians abducted by rebels in Syria include a number of retired Revolutionary Guards and soldiers.
Ali Akbar Salehi said they no longer had any military role and that they had been in Damascus for a pilgrimage when they were seized on Saturday.
Iran has asked the United Nations to help it secure the release of the men.
The rebels have accused them of carrying out a "reconnaissance mission" on behalf of Syrian government forces.
In a video published on Sunday, Capt Abdul Nasser Shumayr of the Free Syrian Army's al-Bara Brigade said that three of the captives had been killed in "fierce shelling" by security forces and threatened to execute the rest if the bombardment continued.
He later told al-Jazeera TV that his brigade had "intelligence information" and "documents" showing that the group belonged to the Revolutionary Guards and had come to Syria to "serve the regime".
Capt Shumayr said his men were "conducting investigations" and would "publish the documents and confessions" in due course.
'Retired forces'
The Iranian government rejected the allegations, insisting the men had been visiting the Sayyida Zainab shrine south of Damascus when they were abducted.
An official at the Iranian Pilgrimage and Travel Organisation said the group included university students and some public servants. The men were all civilians, he added.
On Wednesday, Mr Salehi said retired government employees had signed up to make pilgrimages to Damascus after a lull in the fighting.
"After some time in which pilgrims from Iran were not being dispatched to Syria... we took steps to send retired forces from various organisations," he was quoted as saying by the state news agency, Irna.
"Some retired individuals from the Guards and army were dispatched to Syria to make a pilgrimage," the foreign minister added.
Iran has said it is holding the United States responsible for the fate of the hostages because of its "manifest support of terrorist groups and the dispatch of weapons to Syria".
On Tuesday, the head of Iran's Supreme National Security Council told President Bashar al-Assad that Syria was an essential part of an "axis of resistance" against terrorists, which Tehran would not allow to be broken.
Pictures of their meeting in Damascus, broadcast state media, were the first time Mr Assad had been seen on television for more than two weeks.