Sinai attack marks step change in border violence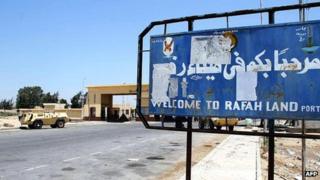 Sunday night's attack on an Egyptian military post in the Sinai Peninsula marks a step change in the violence that has dogged the area for some time.
Israel is already pointing the finger at jihadist extremists.
But whoever was responsible, their willingness to kill significant numbers of Egyptian personnel, before trying to cross the border into Israel, suggests a dangerous escalation in the lengths such groups are prepared to go to.
The incident in the Sinai poses security challenges for both Israel and Egypt; Israel's Defence Minister Ehud Barak has already described it as "a wake-up call" for the authorities in Cairo.
But it also presents diplomatic and political challenges as well; complicating relations not just between Israel and Egypt, but also those between Egypt and Hamas in the Gaza Strip.
It will also add a new element of friction into the already tense relationship between Egypt's new civilian government and the Egyptian military.
Growing anarchy
Ever since Israel withdrew from the Gaza Strip in 2005, the Sinai Peninsula has presented growing security challenges to Israel - a process that has accelerated in the wake of the political upheavals in Egypt.
The repeated bombing of the gas pipeline between Egypt and Israel is a potent index of the growing anarchy.
The Egyptian authorities have never asserted strong central control over the Sinai. It has always been seen as a peripheral region.
Egyptian analysts argue successive Egyptian governments have been restricted in the numbers of troops they can deploy in the area under the terms of their peace treaty with Israel. These restrictions have been relaxed in the past with some additional Egyptian units being deployed after mutual agreement.
However, Israeli experts counter that the Egyptian military has shown little enthusiasm for confronting the complex of criminality and lawlessness in the area, leaving the job largely to poorly trained and poorly equipped paramilitary police units.
Smuggling - drugs, weapons and increasingly people - has become one of the main economic activities for significant elements of the Bedouin tribes who inhabit the Sinai.
Inevitably, ties have grown between the northern Sinai and the Gaza Strip based upon this new economy.
In turn, this has prompted some Palestinian jihadist elements to move into the Sinai from the Gaza Strip - seeing it as a potential launch pad for operations into Israel.
Along the way, some of the local Bedouin have been radicalised as well. There have also been reports of al-Qaeda-inspired extremists moving into the Sinai from elsewhere, though such links are difficult to confirm.
Security shift
Over the past year, attacks into Israel launched from Egyptian territory have changed the security calculations for both sides.
The ambushing of two Israeli buses in August 2011 in which eight Israelis were killed and 31 injured set alarm bells ringing. Israel has stepped up its military deployments near the border and is constructing a 240km (150-mile) double fence to act as a physical barrier.
Israel's intelligence operations have also been stepped up, albeit from a very low base.
Indeed, as regards this latest incident, Israel seems to have had prior warning that trouble was brewing. It had alerted its citizens to keep out of Sinai and seems to have had military preparations in place to quickly deal with the border incursion once it happened.
Israel has long been concerned that the Sinai Peninsula is fast becoming ungoverned space: a Bedouin-dominated mini-state beyond Cairo's control, with various radical Palestinian groups often linked to local Bedouin extremists operating at will. This latest attack only adds to these fears.
Israel of course feels constrained in responding directly against Egyptian territory. The deaths of Egyptian personnel in firefights in the wake of the August 2011 incident provoked popular anger in Egypt.
It is all too easy to see how a successful terror attack into Israel - and any Israeli response - could seriously damage the already fragile relationship between Israel and Egypt.
There are no easy answers.
In a detailed and prescient report earlier this year, one of Israel's most respected regional experts, Ehud Yaari, recommended that the Egyptian military should be deployed along the international border with Israel.
This, he argued, would not require amending the peace treaty itself. Such a move, he noted, would also require much closer co-operation between the Egyptian and Israeli militaries.
However, it is far from clear that Israel's political leadership is yet ready to give up the separation of forces that has been a key element on its southern front for some 30 years.
This however may well also be a step too far for the Egyptian army. Nonetheless, Egypt's new President Mohammed Mursi has vowed to retake control of the Sinai Peninsula.
The danger is that the attack risks opening up fault lines between the president and the armed forces top brass at a time when both sides are still feeling their way into a new relationship.
Whatever steps are taken, or probably not taken, the key task remains that set out in Ehud Yaari's January report, as he put it, "to minimise the risk of the Israeli-Egyptian peace treaty imploding under the pressures of the wild Sinai frontier".