Saudi woman athlete makes headlines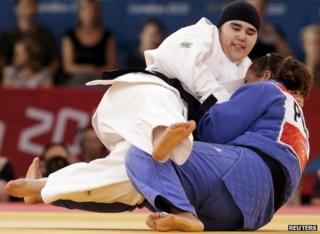 Wojdan Shaherkani has been making headlines.
She became the subject of worldwide media attention when it was announced that she would be one of the first two Saudi female athletes to compete at the Olympics.
But this was soon overshadowed by a row over her hijab - a head covering that many Muslim women wear - that meant she was at risk of not taking part at all.
The International Judo Federation initially said Shaherkani would not be allowed to wear a headscarf during the competition due to safety concerns.
A spokesman said that in Judo athletes used strangleholds and chokeholds and that wearing a hijab could be dangerous.
But that was a deal-breaker for the Saudi Arabian Olympic Committee.
The Saudi authorities had agreed to send women to the games on condition that they agreed to wear Islamic clothing, including headscarves.
The team had threatened to withdraw Shaherkani from the competition before an agreement was finally reached with the IJF that the 16-year-old would fight wearing a special headscarf in order to comply with both safety issues and the Saudi dress code.
"Working with the International Olympic Committee (IOC), a proposal was approved by all parties. The solution agreed guarantees a good balance between safety and cultural considerations," the IJF said in a statement.
Shaherkani competed on Friday in the +78kg category. She was easily defeated by a Puerto Rican fighter in a judo bout that lasted only 82 seconds.
'Western influence'
As the debate raged over whether Shaherkani should be allowed to take part, her father, Ali, insisted: "I would never put my religion or my daughter's hijab on the line, even if it meant missing out on the Olympics."
Noor al-Sajan, a 19-year-old law student living in the Saudi capital, Riyadh, said Mr Shaherkani's remarks did not stop him and his daughter being the subjects of fierce criticism at home.
"There are some who have been very resentful of the fact that she is competing and have been taking it out on her family," she said.
"They've been saying: 'Oh, he is taking his daughter to the Olympics. He's not man enough.'
"Some have also been attacking their racial background, saying: 'They are not from Saudi, they don't represent us.'
"She's 16 years old. I don't know how she's handling all of this. I think it's really hard."
Abdullah Qassem, a Saudi businessman living in Jeddah, said he personally had no problem with Saudi women participating in sports, but he feared that they could be influenced by Western culture.
"The fear is that the women would go [to the Olympics] and expose their bodies," he explained.
"Yes, this time the Saudi women are covering [their bodies], but who's to say that they won't copy the European women and start dressing like them?"
'Prostitutes of the Olympics'
Even the appearance of Shaherkani and the second Saudi female athlete in London, Sarah Attar, along with their male counterparts in the opening ceremony last Friday earned them an Arabic hashtag on the social networking website, Twitter, which translates as "prostitutes of the Olympics".
It was not long before the hashtag was trending on Twitter, but Noor al-Sajan said it was being used to the athletes' benefit.
"Activists have turned the hashtag around. They decided to use it to write positive things about the athletes since the hashtag was already viral," she said.
Ironically it worked, and hundreds of tweets were written in support of Shaherkani and Attar.
"Give Saudi women both the Olympic torch and the keys to the car," said one tweet, referring to the ban on women driving in the Gulf kingdom.
Another tweet said: "Even though Saudi allowed women to be in their Olympics team - the degrading of women lives on with this hashtag."
Despite the controversy Ms Sajan remains optimistic. Saudi Arabia, after all, is a country where women are still fighting for their right to drive and go anywhere without being chaperoned.
"I think it's a great milestone for Saudi women. The Olympics is one the biggest international sports events," she added.
"If the community here sees that it's OK for women to play sports, maybe that would make it easier for women to play professionally here."