Egypt and Israel dispute 'presidential letter'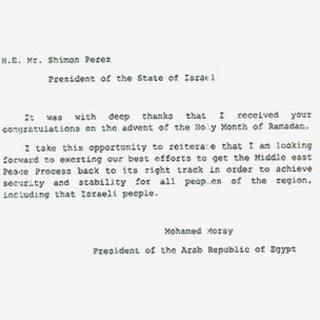 Israel and Egypt are in dispute over an apparent exchange of letters between the two countries' presidents.
On Tuesday, the Israeli head of state, Shimon Peres, published a friendly letter purportedly from his new Egyptian counterpart, Mohammed Mursi.
The letter said Mr Mursi was "looking forward to exerting our best efforts" to help put the Middle East peace process back on the right track.
But Egyptian officials denied it had been sent, insisting it was a "fake".
Shortly after he took office at the end of June, the Egyptian leader denied that he had told Iran's Fars news agency Iran and Egypt should improve their ties.
His office said that interview was a complete fabrication.
'Slander'
The BBC's Jon Donnison, in Cairo, reports that in the era of email, text and tweets, pen and paper has become somewhat old hat, but when it comes to presidential diplomacy the letter remains a medium of choice.
The question is whether President Mursi wrote to Shimon Peres or not, our correspondent says.
Mr Peres's office says he did, releasing a letter sent by fax by the Egyptian embassy in Tel Aviv, whose official stamp was on the cover letter, apparently from Mr Mursi which was brief but friendly in tone.
The unsigned letter read: "It was with deep thanks that I received your congratulations on the advent of the holy month of Ramadan."
"I take this opportunity to reiterate that I am looking forward to exerting our best efforts to get the Middle East peace process back to its right track in order to achieve security and stability for all peoples of the region, including that [sic] Israeli people," it added.
But within hours Mr Mursi's spokesman declared the letter a fake.
"President Mursi did not send any letters to the Israeli president," Yasser Ali told the al-Ahram newspaper, accusing those responsible of "slander".
Our correspondent says there will be questions over whether this was conspiracy or confusion, but either way the debate reflects Mr Mursi's delicate relationship with Israel.
The Islamist leader has said he wants to maintain Egypt's long-standing peace treaty with Israel, but being too cosy will not be popular with the Egyptian public, our correspondent adds.