Syrian activist's message not lost in death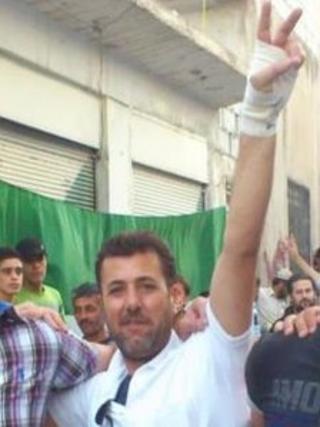 A peaceful demonstrator to his supporters, a "terrorist" according to the government - Tammam al-Saab's killing by Syrian forces in Damascus on 20 July has galvanised protesters in the city, writes a journalist in the Syrian capital.
State media announced that Saab had died during one of the army's "cleansing" operations targeting "terrorists" in the north-eastern suburb of Barzeh.
Opposition activists in Barzeh meanwhile mourned the "uncle of the revolutionaries", who they said had led peaceful anti-government protests there and was shot dead by a sniper while rescuing a wounded demonstrator.
Restrictions on reporting have made it difficult to resolve the conflicting narratives emanating from the capital, but they show how polarised opinion about the conflict in Syria has become.
'Weapons cache'
Tammam al-Saab had been on the authorities' wanted list for a year before he died.
In April, the official Sana news agency reported that weapons and communications equipment had been found on a farm on the outskirts of Barzeh belonging to Saab, who it described as a "terrorist".
The weapons cache included explosives, automatic rifles, pistols and hand grenades, it added.
Three months later, Sana reported that a large number of "terrorists" had been killed in Barzeh, including Saab and another man called Ahd al-Maghribi.
Official sources told the news agency that tens of others had turned themselves in and that others had been captured.
Vehicles equipped with machine-guns were destroyed and large quantities of weapons were seized, the sources said.
But many people in Barzeh gave markedly different accounts of Tammam al-Saab and the circumstances of his death.
Saab was in his mid-40s, a father of three children and an inspirational member of the peaceful protest movement in the suburbs of Damascus, they said.
According to fellow activists, some of his family members had been victims of repression during the rule of President Bashar al-Assad's late father, Hafez, and had been forced to live abroad.
After several years working as a construction worker in the Gulf to save money, Saab had returned to Syria 10 years ago, intent on building a comfortable life for his family.
He did not get involved in politics until security forces opened fire on pro-democracy protesters in the southern city of Deraa in mid-March 2011, activists said.
Within days, he was attending a demonstration at the Umayyad mosque in the centre of Damascus.
As the dissent spread across the country and the crackdown on protests intensified, Saab began to organise protests in Barzeh, urging youths to take part.
"He wanted the protests to fight for a better Syria," a 23-year-old activist said. "He used to consult us on what to do and what to say and advise us to avoid anger. We were so influenced by him."
'Peaceful change'
Saab's day job and low level of formal education reportedly did not stop him being able to persuade university students and graduates to join the protests.
"He was a school himself in teaching us how to contain our anger and not to fall into the traps of the regime," one 30-year-old journalist said.
"He always wanted peaceful means of change and insisted that we chant slogans that addressed all Syrians, saying all should be united in the new Syria."
Nada, a 21-year-old protester and aid worker, said she was amazed how Saab worked with young people, helping them and trying to solve their problems.
"Tammam wanted the nightly protest in Barzeh to be a place that attracted all Damascenes and so it was," she explained.
"We used to finish work and head to Barzeh to protest and enjoy the chanting that kept us all together because of his spirit."
Fellow activists said that at the end of every protest, Saab used to urge people to swear an oath that they would not abandon the revolution's main aims - overthrow the regime and build a new, free and democratic Syria.
His death was therefore seen as a huge loss by many in Barzeh and indeed the capital.
But his call for peaceful change may now be drowned out by gunfire.
With his death, many of the youths who protested alongside him may now want to take up arms and join the fight against the government.