Egypt's president discusses Gaza blockade with Hamas PM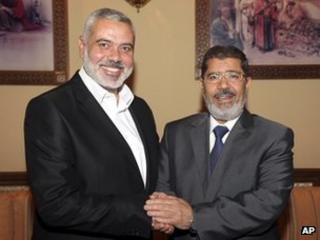 Egypt's President Mohammed Mursi has held talks with the head of the Hamas-led government in Gaza, Ismail Haniya.
They discussed "solutions" relating to the blockade on the coastal territory and "alleviating the suffering" of its residents, Egyptian officials said.
Mr Mursi's predecessor, Hosni Mubarak, complied with Israel's request to impose restrictions on Gaza after Hamas ousted the rival Fatah faction in 2007.
Hamas leaders hope Mr Mursi, who is a fellow Islamist, will end the blockade.
The Palestinian group was originally founded in the 1980s as an offshoot of the Muslim Brotherhood, to which Egypt's president belongs.
Fuel supply boost
However, there was no immediate sign that Egypt was ready to open up the border with Gaza following Mr Haniya's meeting with Mr Mursi at the presidential palace in Cairo on Thursday.
A Palestinian official told the Reuters news agency that the head of Egyptian intelligence, Murad Muwafi, had promised measures to increase the flow of fuel supplied by Qatar to Gaza via Egypt, to ease the electricity shortages the territory has experienced since 2007.
The fuel goes from Egypt into Israel, from where it passes through a crossing into Gaza in accordance with existing arrangements. Earlier this year, Hamas had requested that fuel tankers crossed directly from Egypt.
Before Thursday's talks, Egypt also reportedly eased visa requirements for Palestinians under the age of 40 seeking to cross from Gaza.
Mr Haniya's visit to Cairo was the second by a senior Hamas official since Mr Mursi took office at the end of June.
Last week, Mr Mursi held talks with Hamas's political leader, Khaled Meshaal, and Palestinian Authority President Mahmoud Abbas, who heads Fatah.
He told them that he would not favour either of the factions while Egypt sought to help them implement a reconciliation deal that should have seen the creation of a new transitional unity government.
In May, Mr Abbas was heavily criticised by Hamas when he appointed a new government in the West Bank headed by Salam Fayyad. Mr Abbas said he had not given up on reconciliation but could not "wait forever".