Profile: Egypt Prime Minister Hisham Qandil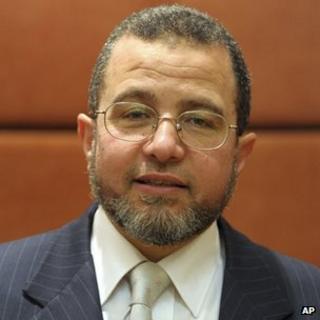 Egypt's President Mohammed Morsi has made Hisham Qandil, a former minister of water resources, the country's youngest prime minister since Gamal Abdul Nasser in 1954.
Mr Qandil has until now had a low profile in Egypt and is not from the Muslim Brotherhood, to which President Morsi belongs.
Following his nomination, Mr Qandil called for unity and expressed confidence that the Egyptian people would overcome the serious challenges they faced.
Engineer
Details about Mr Qandil's early life are scarce, but he was born in 1962 and graduated with a bachelor's degree in engineering from the University of Cairo in 1984.
He then went on to earn a master's degree in irrigation and drainage engineering from Utah State University in 1988 and a PhD from North Carolina State University in 1993.
After returning to Egypt, Mr Qandil worked at the ministry of water resources and irrigation's National Water Research Centre (NWRC).
In 1999, he was appointed office director for the minister of water resources, for whom he worked until 2005. He was also part of an observer mission for Egypt in talks with Sudan on Nile water issues.
Mr Qandil then appears to have moved to Tunisia to work for the African Development Bank (AfDB), where he eventually became chief water resources engineer.
At the bank, he worked on the Nile Basin Initiative, which seeks to achieve sustainable development through the equitable utilisation of water resources. He also wrote a number of papers, including an economic policy brief on food security in Africa.
In July 2011, Mr Qandil was appointed minister of water resources in the government of Essam Sharaf, who became prime minister shortly after President Hosni Mubarak was forced to step down by a popular uprising.
Mr Sharaf was himself forced to resign five months later, but his successor, Kamal Ganzouri, asked Mr Qandil to continue as minister in his cabinet.
In July 2012, he travelled with Mr Morsi to an African Union summit, where the new president sought to improve ties with Egypt's neighbours.
'Similar ideology'
Despite this development, many observers were surprised when Mr Qandil was asked to form a new government several days later.
Prior to Tuesday's announcement, President Morsi had said he wanted a "broad coalition" and that the prime minister would not necessarily be a member of the Muslim Brotherhood or its Freedom and Justice Party (FJP), which dominated the now-dissolved parliament.
Mr Qandil has no known affiliation with any Islamist political organisation, but is believed to be religious and once said he had grown his beard as a sign of piety "in line with the Sunnah" - the Prophet Muhammad's words and actions.
Emad Gad of the Social Democratic Party said Mr Morsi "brought in someone who is not from the Brotherhood, but whose ideology is similar".
"The other names presented [for the position] would not have accepted the orders given to them," he told the Associated Press.
But Mr Morsi's spokesman insisted: "The appointment of a patriotic, independent figure was studied and discussed in order to select a person capable of managing the current situation efficiently and effectively."
'Difficult mission'
At a news conference, Mr Qandil said he would form a technocratic government, stressing that "competence" would be the sole criterion for selecting ministers.
He said he wanted "all political forces and the people of Egypt to support us in this difficult mission", and highlighted economic, social and environmental challenges.
"We must exert all efforts to achieve the goals of the revolution."
Mr Qandil also warned that corruption and negligence within Egypt's vast bureaucracy would not be tolerated, saying: "We should eliminate from our dictionary words like 'upon instructions of the minister'."
It is not clear how much power Mr Qandil will have. A decree issued in June gave the Supreme Council of the Armed Forces (Scaf) all legislative power and veto power on matters relating to national security, while the president will have final say on key appointments and policies.
Mr Qandil is also likely to be pressed by Mr Morsi to execute the Muslim Brotherhood's so-called "Renaissance Project", a package of reforms which aims to overhaul the government and economy.
In addition, he will be asked to fulfil the president's promise to tackle dozens of problems relating to security, utilities, bread and fuel supplies, traffic, health and cleanliness within 100 days of taking office. Twenty-five days have already been spent trying to find a suitable prime minister.