Battle for Aleppo: Syrians react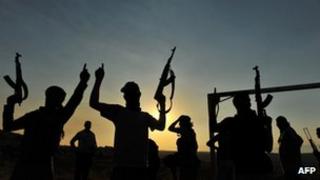 The battles for control of the Syrian capital, Damascus, and the second largest city of Aleppo have reached their second week.
Fighting between the Free Syrian Army (FSA) and Syrian government forces intensified in these two key cities after a suicide bomb attack killed three members of the Syrian president's defence team last week in Damascus.
Syrians in Aleppo have been speaking to the BBC about the continued fighting and how it has affected the lives of people there.
Majed, Sham News Network in Aleppo
Today there were violent clashes between the Free Syrian Army (FSA) and the regime's army, with the FSA destroying three tanks.
More than 30 members of al-Assad's forces were killed or injured in Masaken Hanano after the regime shelled the area, as well as the neighbourhoods of al-Sakhour and Tariq al-Bab, with tanks, helicopter gunships, injuring dozens of people.
There is a great wave of refugees moving from Tariq al-Bab to safer areas. They are living in very difficult circumstances and severe poverty.
In Salaheddine district, the most violent clashes have been happening since last night and the regime's snipers are targeting isolated civilians.
There were also clashes near the television broadcasting building in an attempt by the FSA to take control of the radio and television broadcaster.
Salam, resident of Aleppo
Areas in Aleppo are kind of split in terms of danger. In my area and its surroundings, we're able to go outside, buy bread, buy food and whatever else we need.
However, in some other areas it's quite messed up. Some people can't go outside and buy what they need.
The general sentiment is that everyone here in Aleppo is terrified.
People are still going to work in some areas, except for those being shelled.
Edward Dark, Aleppo-based activist
The situation in Aleppo today is critical, as some areas have seen heavy fighting between regime forces using heavy tanks, and lightly armed rebels.
At least three tanks were destroyed in the Masaken Hanano area of the city, while other parts of the city like Al-Sakhour and Salaheddine have also seen heavy clashes as FSA rebels continue to pour in from the countryside, which they have controlled for months, by the hundreds.
There has been no power in much of the city all day, and the areas in which the clashes are taking place are heavily populated poor parts of town that also have a large number of internally displaced refugees from other parts of the country, and have now again been forced to flee those areas with nowhere to go.
Citizens of the city fear that the violence will soon spiral out of control and are bracing themselves for a bloody conflict.