Offices stand empty in tallest tower, the Burj Khalifa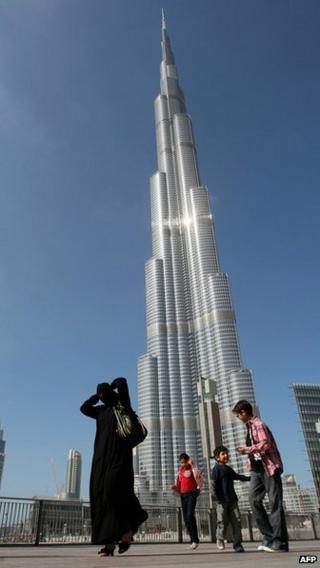 When the world's tallest building opened in January 2010, the Burj Dubai was, at the last minute, named the Burj Khalifa - a gesture to the Abu Dhabi royal family which had given its neighbour a debt bailout lifeline of $20bn (£12.7bn; 16.4bn euros).
It was just weeks after Dubai's financial crash - a pretty bad time to open an 828m-high tower based around an Armani-branded hotel, an observation deck, 900 luxury apartments and 37 floors of office suites.
Today, the hotel is regularly fully booked by guests from the oil-rich Gulf and beyond.
Meanwhile, tourists pay up to 400 dirhams (£69; $108; 88 euros) to be whisked to the 124th floor for views across the desert and perhaps to buy a Mission Impossible-style photo, taken in the building which Tom Cruise brought to the Hollywood big screen.
And, despite Dubai's well-publicised property downturn, about 80% of those luxury flats in the Burj are occupied, with prices jumping 10% in the past year.
But for the offices, it is a less rosy picture.
No official figures are given by developer Emaar. But industry experts say that while all were sold in the boom years, well before the building was completed, about two-thirds of the offices - more than 20 floors - are not occupied.
'Glitzy'
Practical reasons include the price of rent, which, according to Alan Robertson, Middle East chief executive of property specialists Jones Lang LaSalle, is "twice that of equally good properties 50m away".
The tall, spindly design means floor space is limited, he adds, meaning big companies would need several storeys, something also complicated because each level has a different owner.
And, in an age where big business is under such scrutiny, Mr Robertson says some international firms, such as large banks, do not see it as an appropriate place to be based.
"The Burj Khalifa is a global icon, and a fantastic and prestigious address. But that's not the kind of image a lot of multi-national corporates want to portray these days," says Mr Robertson.
"They want to be seen as sensible and business-like, not over-the-top and glitzy."
Some owners are happy to retain the floors of office space, even without tenants, either as a long-term investment or because they know they have little chance of recouping what they paid.
But some are trying to sell. Last month, one anonymous owner listed a storey of the building on a US-based property auction website for almost 20m dirhams.
LFC Group, which handled the sale, expects to list several more storeys of the Burj's offices in the next year.
But chief executive William Lange was less forthcoming on the outcome of the auction.
"We are dealing with very private parties here who don't desire any publicity. The details and results of this sale will most likely never be made public," he said.
Of course, filling offices is not a problem limited to the Burj Khalifa.
Return to confidence
About 35% of Dubai's office space is vacant, according to a report this week from Jones Lang LaSalle.
And that figure hides a disparity, the firm says, with some parts of Dubai in heavy demand while other developments struggle to attract tenants or buyers.
"In the better locations, better designed, better quality, better thought-through schemes, these are beginning to fill up and there's not the great oversupply you might think," Mr Robertson says.
"There's a reasonable supply of medium suites and a massive oversupply of really poor quality space and what we'll see is the poor stuff will continue to struggle."
And, just a few hundred metres from the Burj Khalifa, is one of those strugglers.
During the construction boom, promotional materials for the Business Bay development said it would be a business and residential district on "the scale of Manhattan", with 80 towers.
Work slowed, or often ground to a halt, as the debt crisis hit.
But master developer Dubai Properties Group (DPG), a property arm of debt-hit Dubai Holdings, has said a return in confidence to the market meant it would recommence work on all its mega projects that were either suspended or delayed during the financial crisis, including Business Bay.
Today, it has 19 office towers - many built by third party developers - but 82% of those offices are empty, Jones Lang LaSalle figures suggest.
DPG's chief executive, Khalid Al Malik, questions that vacancy rate, saying it should not include offices which are in the process of being designed and fitted out, or whose owners or tenants have not yet moved in.
"It's true that occupancy levels vary, across the development," Mr Malik says, adding that two of its office blocks in prime locations were close to being fully sold. He said those that were developed some time ago had high occupancy rates while the most recent builds had lower ones.
A report out this week by Bank of America Merrill Lynch backs up his optimism.
It predicted Dubai's population could double in the next decade as more job are created, raising demand for office buildings as well as housing.
But, according to Jones Lang LaSalle's Mr Robertson, this may not have much impact on the Burj Khalifa.
"It attracts a very specific kind of company," he says. "It attracts the kind of firm that wants to tell someone their office address, and for people to have no doubt about where they mean."