Israeli media point finger at Iran over Bulgaria attack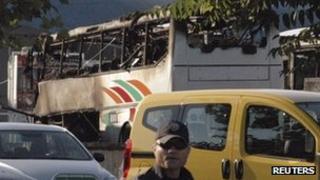 The killing of several Israeli tourists in an apparent suicide bombing of a bus in the Bulgarian resort of Burgas prompts the Israeli media to debate whether it is retaliation for Israel's alleged assassination of Iranian nuclear scientists. Iran's media are refraining from comment on the story so far, apart from a statement on a TV website dismissing the accusation as "ridiculous".
Israeli TV channels and radio stations have given over almost all their news bulletins to updates and reactions, and the story is the lead in the morning newspapers and websites.
"Terror in holiday city" declares the headline in the popular tabloid Yediot Aharonot, echoed in more sober terms in the rest of the daily press. All front pages report Prime Minister Benjamin Netanyahu's remark that "everything points to Iran".
Most pundits agree with the government that Iran was responsible - either directly or through its Lebanese ally Hezbollah.
Meir Javedanfar, an Iran analyst at Israel's Interdisciplinary Centre in Herzliya, however cautions against leaping to conclusions, reports the Times of Israel website.
He acknowledges that Iran is a major suspect because the bombing came on the anniversary of Iran's attack on a Jewish centre in Buenos Aires - and in the context of "recent attempts to attack Israeli targets" in Thailand, Azerbaijan and India. However he does not rule out the possibility that al-Qaeda is involved, concluding "For now all we have to go on are assumptions, and a list of credible suspects", the website reports.
Ehud Yaari, Arab affairs analyst at popular commercial Channel 2 TV, was the first to say Hezbollah broadcast a denial of involvement on Lebanese Al-Mayadeen TV - but most Israeli news outlets give greater prominence to threats against Israel by Hezbollah leader Hassan Nasrallah in a speech on Wednesday.
Hezbollah factor?
Several journalists see the attack as part of a shadow war in which Israel is allegedly killing Iranian nuclear scientists and Tehran is apparently targeting Israeli tourists and diplomats abroad.
Ronen Bergman in Yediot Aharonot wonders whether Israel's purported assassination programme takes into account the risks to its own civilians: "The execution team should prove beyond doubt that there is genuine justification for putting Israeli citizens in harm's way, because it is impossible to defend them everywhere".
Prominent analyst Amos Harel in the liberal daily Haaretz thinks this struggle with Iran will continue "mainly underground until a decision is taken on how to deal with the nuclear issue".
Offer Shelah in Maariv says Israel will not retaliate with violence but rather by increasing international political pressure on Iran: "Anyone who expects a noisy response from Israel will wait in vain. Israel's response will be political, and aim to convince any remaining doubters that what we have here is a serial exporter of terrorism".
Yaakov Katz in the English-language Jerusalem Post agrees, saying the relatively small scale of the attack "demonstrates the difficulty Hezbollah faces today in carrying out large-scale attacks against Israel" and "might not be enough to require an immediate response". He thinks the government will take its time before deciding how to retaliate: "Above all, it will first work to create an intelligence dossier to prove to the world that Iran really was behind the bombing".
Yoav Limor in the pro-government freesheet Yisrael Hayom says Israel's security chiefs see the attack as Hezbollah's work and consider it another reason, along with the steady collapse of the Assad government, to justify an Israeli "offensive" in Lebanon to stop Syrian chemical weapons falling into Hezbollah's hands.
"Ridiculous and repetitive stance"
Iran's foreign ministry spokesman has condemned "all terrorist attacks" in general terms, according to the country's Arabic-language Al-Alam TV channel, but the only media comment on the bombing at this point is a statement on the website of the Islamic Republic of Iran News Network (IRINN) official rolling-news TV channel.
It condemns the "hasty, ridiculous and repetitive stance by which the prime minister of the Zionist regime has once again accused Iran of involvement". It in turn accused Israel of "pursuing a new scenario against Iran only a few hours after the attack".
IRINN was the only Iranian TV channel to report the attack in its morning bulletins, referring to the victims as "Zionists" but not mentioning the Israeli accusations. There was no reporting or comment in the press.
BBC Monitoring selects and translates news from radio, television, press, news agencies and the internet from 150 countries in more than 70 languages. It is based in Caversham, UK, and has several bureaux abroad. For more reports from BBC Monitoring, click here