Assad officials deny rebel 'Damascus volcano' push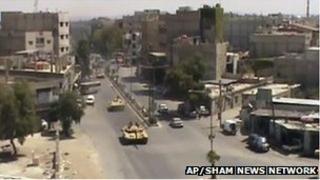 Syrian officials have dismissed claims by rebels that they have launched an all-out offensive in Damascus.
State media said security forces fought off attacks by small groups of armed terrorists in the city.
The rebels had declared a final battle for the capital, calling it Operation Damascus Volcano. They said the regime had used helicopters and tanks to repel a well-planned attack.
UN chiefs are trying to persuade China and Russia to agree tougher measures.
Envoy Kofi Annan held talks with Russian President Vladimir Putin in Moscow, and Ban Ki-moon is visiting Beijing.
The UN has until Friday to renew the mandate for observers in Syria, and Western nations want a new resolution backed by the threat of force.
In other developments:
Iraq warns its citizens to flee the violence, hours after the bodies of two killed journalists were handed over by the Syrian authorities
Syrian General Manaf Tlas, a former aide of President Bashar al-Assad who defected earlier this month, is in Paris, French authorities confirm
The army and rebels have battled in several parts of Damascus for the past three days.
The fighting reached central areas on Tuesday, with gunfire and plumes of smoke reported in a street near parliament.
The Free Syrian Army said the operation was well planned, and they had sent hundreds of fighters to the capital last week to be in place for the assault.
"There is no going back. The Damascus battle has priority for us. We have started the operation to liberate Damascus," said FSA spokesman Col Qassem Saadeddine.
Activists accused the regime of deploying tanks and helicopter gunships to the capital, and claimed that rebels had shot down one helicopter.
State news agency Sana, however, detailed several isolated attacks by "armed terrorist gangs", and said the army had fought them off.
Sana said gangs had attacked a power station and a printing house, attempted to block roads around the capital, and had used civilians as human shields.
Information Minister Omran Zoabi told Reuters news agency some "armed elements" had infiltrated Damascus.
"The security forces surrounded them and dealt with them, and are still dealing with them," he said.
"Some have surrendered and others escaped on foot and by car and are firing randomly in the air to frighten people."
The rebels and the government often publish contradictory accounts of the same incidents.
Western journalists are under heavy restrictions in Syria, making it difficult to verify the claims of either side.
About 16,000 people have died in Syria since protests against the Assad regime began in March last year.