Iraq to sue former Syrian ambassador over 'attacks'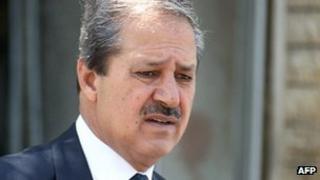 Iraq says it is to pursue legal action against the former Syrian ambassador to Baghdad who defected last week.
An adviser to Iraqi PM Nouri al-Maliki said comments made by Nawaf Fares amounted to a confession of complicity in attacks in Iraq several years ago.
In interviews since defecting, Mr Fares said Syria formed an alliance with al-Qaeda to disrupt US forces in Iraq.
Mr Fares has accused Mr Maliki of being complicit in attacks in Iraq because of "his alliance" with Damascus.
The BBC's Rami Ruhayem in Baghdad says Mr Fares has a few stories to tell about his former Syrian masters and, since arriving in Qatar from Baghdad, he hasn't been holding back.
He told the UK's Sunday Telegraph that after the US-led invasion of Iraq in 2003, neighbouring Syria formed an alliance with al-Qaeda to disrupt American forces and that he himself had helped Damascus send "jihadi units" to Iraq.
He said these units were later involved in attacks inside Syria on the direct orders of the Syrian leadership.
Iraqis warned
Meanwhile, the Iraqi government has called on its citizens who fled to Syria in recent years to return home because of the escalating violence there.
Ministers were concerned by the "increasing incidents of murder and assault on Iraqis living in Syria", cabinet spokesman Ali al-Dabbagh said.
The request came after two Iraqi journalists were killed in Damascus.
In January, the UN estimated there were a million Iraqi refugees in Syria, but Mr Dabbagh put the figure at 200,000.
He called on Syrian government and opposition forces to refrain from harming Iraqis, who he said were "not part of the conflict".
Mr Dabbagh said 12 Iraqis had been killed so far this month, including the two journalists - Ali Juburi al-Kaabi, editor of the weekly Baghdad-based newspaper al-Rawaa, and Falah Taha, a freelance reporter.
However, officials told the BBC that their bodies had been handed over to Iraqi authorities at the al-Walid border crossing late on Monday, along with at least 18 others, suggesting the number of killed is higher.
Despite the warning from Baghdad, the security situation in Iraq remains perilous, with at least 237 people killed by militants in June.