US Navy ship fires on boat in Gulf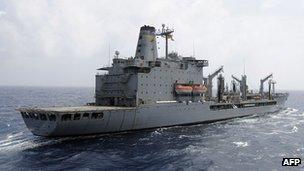 A US ship has fired on a boat off the coast of the United Arab Emirates (UAE), US officials say.
The USNS Rappahannock fired on a vessel after it ignored warnings and rapidly approached the ship, the US Navy says.
There is no confirmation of casualties although a UAE official said an Indian fisherman had been killed and three more wounded.
The US has increased its presence in the Gulf after Iran renewed threats to close the strategic Strait of Hormuz.
In a statement , the US Navy in Bahrain said that a security team on board the refuelling ship fired on a small motor boat after it disregarded warnings and "rapidly approached" the US ship off the coast of Jebel Ali, near Dubai, UAE.
"In accordance with navy force protection procedures, the sailors... used a series of non-lethal, preplanned responses to warn the vessel before resorting to lethal force," the statement said.
"The US crew repeatedly attempted to warn the vessel's operators to turn away from their deliberate approach. When those efforts failed to deter the approaching vessel, the security team on the Rappahannock fired rounds from a .50-calibre machine gun."
The US Navy said the incident was being investigated.
It is not clear where the crew of the boat are from.
The US Navy's 5th Fleet is based in Bahrain.
AP reported that UAE officials and police were crowded around the white-hulled boat, which after the incident was docked in a small Dubai port used by fishermen.
The boat appeared to be a civilian vessel about 30ft (9m) long and powered by three outboard motors, the report said.
Iran has threatened to close the Strait of Hormuz, through which 20% of the world's oil exports pass, in a row over oil embargoes.
The US and the EU have lobbied countries around the world to block Iranian oil imports to put pressure on Tehran over its controversial nuclear programme.
Western nations fear Iran is trying to develop nuclear weapons, a claim that it vehemently denies.