Syria denies UN claims it used heavy arms in Tremseh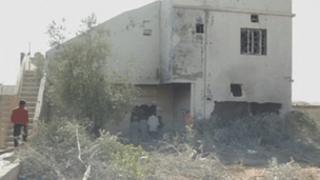 Syria has rejected claims by the UN that it used heavy weapons in an attack on the village of Tremseh on Thursday.
It accused UN and Arab League special envoy Kofi Annan of "rushed" comments, adding that only troop carriers and small arms were used in the operation.
Syria said what occurred were armed clashes, not a massacre, with only 37 recorded deaths - far short of the 200 or so deaths activists have suggested.
UN observers have returned to Tremseh to continue investigations.
They still need to determine how many people died, who they were and exactly who carried out the attack.
'Not a massacre'
Syrian foreign ministry spokesman Jihad Makdissi told a news conference in Damascus that no helicopters, aircraft or armoured tanks were used in the attack - only troop carriers and small arms, including rocket-propelled grenades.
He said Mr Annan had sent a letter to the foreign ministry on Saturday that "did not rely on facts".
"As diplomatically as possible, we say that this letter was very rushed," he said.
Mr Makdissi said five buildings housing what he termed "armed terrorists" had been targeted.
He said the army's attack was in too small an area to use tanks.
"It was not a massacre but a response by regular military forces against heavily armed groups that do not want a political solution," Mr Makdissi said.
He cited the initial findings of the UN observers as supporting the Syrian government's account that armed rebels had been targeted.
However, the observers had confirmed that heavy weapons were used, in violation of a commitment given to Mr Annan by the Syrian authorities.
"A wide range of weapons were used, including artillery, mortars and small arms," UN spokeswoman Sausan Ghosheh said in a statement.
Mr Makdissi said if any heavy weapons were used it was by the rebel side.
Some activists and witnesses say more than 200 civilians were killed in an indiscriminate massacre, initially by an army bombardment then by pro-government shabiha militiamen who swept into the village and killed people one by one.
'Under the rubble'
The BBC's Jim Muir, in neighbouring Lebanon, says the conclusions of UN observers have so far been more in line with the government's version of events than with reports of an indiscriminate massacre of civilians.
He says the Tremseh killings appear to differ from the situation at Houla two months ago, when UN observers were able to arrive quickly and count the bodies of what was clearly a massacre.
He says that because the observers arrived in Tremseh 48 hours after the attack, all they could conclude was that it appeared to target rebel fighters or defectors from the Syrian army.
Video posted by activists shows dozens of people buried in a mass grave but this has not been verified and activist groups themselves are struggling to determine the number of dead.
The Syrian Observatory for Human Rights group said it had the names of 103 dead, including 50 rebel fighters.
One activist, Bassel Darwish, told Associated Press: "There are still martyrs under the rubble and in the fields."
Residents were unable to reach fields, where many bodies were said to be scattered, because of army checkpoints, he said.
Mr Darwish said Syrian troops had entered Tremseh with the UN team on Saturday "so that no-one would talk to the observers".
Reports of casualties often cannot be independently verified, as Syria severely restricts journalists' freedom of movement.
Some 16,000 people are thought to have been killed since the uprising against Bashar al-Assad's regime began in March 2011.