Syria's opposition appeals for Russian support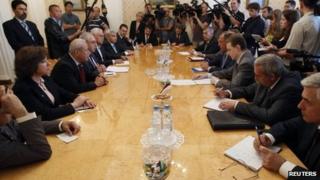 A delegation of Syrian opposition figures is visiting Moscow to discuss international efforts to find a political solution to the violence.
Russian Foreign Minister Sergei Lavrov is holding talks with Abdulbaset Sayda, head of the Syrian National Council.
Mr Lavrov's deputy said Russia wanted to move the opposition "towards realistic and constructive positions".
Later, international envoy Kofi Annan will brief the UN Security Council on how he plans to revive his peace plan.
Mr Annan held talks with officials in Baghdad and Tehran on Tuesday, and reiterated his view that Iran - Syria's closest ally - had a role to play in resolving the conflict, despite US objections.
The former UN secretary general also said Syrian President Bashar al-Assad had proposed altering his peace initiative so the most violent areas would be pacified first.
"He made a suggestion of building an approach from the ground up in some of the districts where we have extreme violence to try and contain the violence in these districts and, step by step, build up and end the violence across the country," Mr Annan told reporters in Tehran.
His plan currently calls for an immediate nationwide ceasefire.
'Revolution'
Ahead of his meeting with Mr Lavrov on Wednesday, Mr Sayda said he would try to persuade Russia to end its support for President Assad's government.
"The events in Syria are not disagreements between the opposition and the government but a revolution," he told a joint news conference. "It is similar to what happened in Russia when it finished with the previous regime and set upon the path of democratic development."
Mr Lavrov said he welcomed the opportunity to have direct discussions with opposition figures "at this crucial time for Syria", before stressing that he wanted to once again clarify Russia's position.
"Sometimes your organisation has questions about what we are doing and we want to clear up these questions so there are no doubts."
Russia wanted to understand if there was a "prospect" of the deeply divided opposition factions uniting and creating a platform for dialogue with the government, he added.
Earlier, Mr Lavrov's deputy, Mikhail Bogdanov, said he would "try to move the Syrian opposition figures towards realistic and constructive positions that can help end the bloodshed".
The opposition has insisted that President Assad must step down as part of any agreement on a transition, something Russia has rejected.
Russian warships
The talks come as a deadline approaches for the UN Security Council to decide whether to renew the mandate of the UN Supervision Mission in Syria (UNSMIS), whose 298 unarmed military observers and 112 civilian staff are monitoring the implementation of Mr Annan's plan, under which a ceasefire was supposed to begin in mid-April.
The observers suspended their work on 16 June because it was too dangerous.
Mr Annan admitted on Saturday that his peace plan had not succeeded, adding: "Maybe there is no guarantee that we will succeed."
On Tuesday, Russia circulated a draft resolution to UN Security Council diplomats that would extend the observer mission beyond the end of its mandate on 20 July.
The resolution contains no threat of sanctions against Syria and reportedly suggests that UNSMIS should focus on trying to achieve a political solution.
Correspondents say the draft is unlikely to satisfy the US and Western European countries, who have called for a resolution under Chapter 7 of the UN Charter, which would allow the Security Council to authorise sanctions and military intervention.
In a separate development, Russia said on Tuesday that it had dispatched a flotilla of 11 warships, led by the anti-submarine warfare destroyer Smetlivy, to the eastern Mediterranean Sea. Some of the vessels would dock at the Russian naval base outside the Syrian port of Tartus, it added.
It will be the largest display of Russian military power in the region since the uprising against President Assad began in March 2011.
But a spokesman for the US National Security Council said it had "no reason to believe this move is anything out of the ordinary".
The announcement came a day after Russia said it was ending new shipments of weapons to the Syrian military until the violence had decreased. It had previously rejected calls to end shipments.