Israel destroys 'spy devices' in southern Lebanon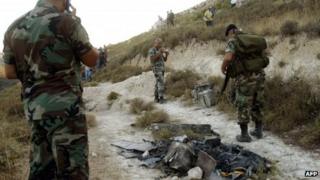 Israel has destroyed three spying devices discovered in southern Lebanon, the Lebanese army has said.
The "booby-trapped wire-tapping devices" found in the villages of Zrariye and Rzay, north of the Litani river, were bombed on Monday, it added.
The devices had earlier been found by members of the military wing of the Shia Islamist movement, Hezbollah.
Israel has not commented. Lebanon has accused its neighbour in the past of planting similar spying devices.
Lebanon has been in a state of war with Israel since 1973, while Hezbollah fought a 34-day war with Israel in 2006 that left some 1,200 Lebanese and 160 Israelis dead.
Investigation
On Monday, Hezbollah's al-Manar television reported that the "Zionist spying devices" had tapped into the group's private wired telecommunications network.
"The detection came within the framework of an ongoing spyware detection [operation]," a Hezbollah statement said.
"Subsequently, the enemy detonated the device remotely, but no-one was hurt due to the high level of alert and caution of the resistance technicians."
Al-Manar said one of the spying devices contained more than 20 boxes and batteries. The device was found on a hill near the border and was linked via an 80m cable to transmission equipment pointing towards Israeli military posts, it added.
Hezbollah said Israel's "persistent attacks" on its telecommunications network constituted a violation of Lebanese sovereignty and threatened the safety and security of the Lebanese people.
The Lebanese army later confirmed that there had been three blasts in Zrariye and Rzay at 17:15 local time (14:15 GMT) on Monday.
"A military expert went to the area and it turned out that the explosions resulted from the bombardment by the Israeli enemy of three booby-trapped wire-tapping devices. An investigation is under way to uncover the circumstances of the incident."
There were similar incidents involving alleged Israeli spying devices in December 2011 and February 2012. Israel did not comment at the time.