Syria -Turkey tension: Conflicting arguments on Phantom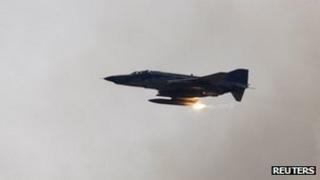 The shooting down of a Turkish Phantom jet by Syrian air defences has prompted a battle of two narratives.
The Syrians say the plane had penetrated Syrian air space at low level, using an air corridor utilised in the past by the Israeli Air Force. They say it was engaged without using radar and shot down.
Turkey insists that the aircraft was attacked in international air space, though the Turks do accept that the plane - which they say was on a routine training mission - did stray briefly into Syrian air space, but that Turkish controllers alerted the crew and they left.
A subsequent meeting of Nato ambassadors that was given a detailed briefing from the Turks strongly backed Ankara's story. But perhaps surprisingly there was no detailed public presentation of the evidence.
So is there more in this than meets the eye? What was going on and what questions still need to be answered?
'Irreconcilable'
Sean O'Connor is a leading analyst of Soviet-style air defences. A former intelligence analyst with the US Air Force, he now teaches physics in a US college.
But in his spare time he has taught himself the skills needed to interpret satellite imagery and using open source pictures, he has built-up an encyclopaedic knowledge of the sorts of air defences used by a country like Syria.
In his view "the Syrian and Turkish accounts do not appear to be wholly irreconcilable. If Syria initiated the engagement process as soon as an airspace violation was detected then there is every possibility that the Turkish aircraft did in fact leave the area prior to being shot down," he explains.
Syria's willingness to engage an unidentified intruder was a warning, he says, "a direct message towards Western states contemplating action against the Assad regime".
But was this just a routine training mission that went badly wrong as the Turks suggest?
Douglas Barrie of the International Institute for Strategic Studies (IISS) in London says: "Given that Syria is effectively riven by a civil war, then suggestions that the Turkish activity was a 'routine training mission' does raise questions.
"Carrying out 'normal' training activity on the borders of a state using its military to try to suppress rebel forces inherently carries risk."
'Alternative mission'
Mr Barrie is also intrigued by the type of Turkish aircraft that was involved.
"Reports, as yet unconfirmed, that the variant of the F-4 Phantom aircraft shot down was a reconnaissance model, could also be interpreted as indicating an alternative mission," he told me.
"Some of Turkey's RF-4E aircraft have comparatively recently been upgraded to provide a long-range oblique photograph capability - the camera is mounted in a pod - with a radar pod also capable of being carried," he said. "Such sensors would be of use in trying to build up a picture of activity of ground forces."
But given that the Turkish plane did enter Syrian air space, however briefly, was it really necessary to shoot it down?
Mr Barrie says that "an incursion into another nation's air space would not normally result in a shoot down, with other less drastic steps sufficing - such as the intercept of the target aircraft and its identification by fighter aircraft".
He notes, however, that "Syrian air defences were embarrassed by the ease with which the Israeli air force mounted a successful attack on its [suspected nuclear] reactor site in 2007. The defection on the MiG-21 pilot to Jordan in June may also have resulted in a more aggressive approach to dealing with unidentified aircraft."
Syrian President Bashar al-Assad has said that the Turkish jet was shot down by a soldier who did not have access to radar. Syrian accounts suggest the plane was downed by gunfire.
'Logical weapon'
However Mr O'Connor notes that the Turks say the plane was some 13 nautical miles (24km) off the Syrian coast (just outside Syria's 12 nautical-mile territorial limit) when engaged. If this distance is accurate, he says, then a radar-guided surface-to-air (SAM) system is the only possibility.
"This could be a radar-guided SAM operating under optical guidance," he notes, as Turkish reports indicate that there was no radar warning indication.
"In this case, the Russian Pantsyr-S1E would be the logical weapon involved, although the 13-mile range represents the very outer limit of the system's capability".
The Pantsyr-S1E is a relatively modern Russian air defence system that has been delivered to Syria in recent years.
But Mr O'Connor says that another weapon may have been involved.
"The dark horse is the newly acquired Russian Buk-M2E system, but Israeli reporting suggests that they are deployed near the border with Lebanon, far outside the area of interest."
'Depth of coverage'
So what does this episode tell us about the capabilities of Syria's air defence network overall?
Mr O'Connor says: "The Syrian air defence network's primary strength lies in its depth of coverage. While relying on older, Soviet-era SAM systems for the most part, there are a significant number of sites positioned to provide overlapping fields of fire and complementary engagement capabilities.
"The dense coverage is one likely reason behind Israel's choice to skirt Syrian airspace and enter through Turkey to attack the suspected reactor complex a few years ago," he told me.
"The drawback to the Syrian network, as shown recently in Libya, is that these older systems can be electronically and physically defeated by a modern Western air force," although he notes that "no solution should ever be judged to guarantee 100% effectiveness".
The recent import of advanced Russian SAM systems and Chinese radar systems, he explains, provide evidence that Syria is attempting to address some of these weaknesses.
"The level to which Syria has managed to improve its situational awareness and weapons capability", he asserts, "will ultimately have an impact on the success of any potential future air action against the Assad regime."
Downed Turkish jet: the two accounts