Syria-Turkey tension: Assad 'regrets' F-4 jet's downing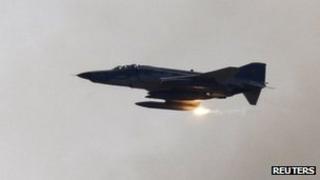 Syrian President Bashar al-Assad is quoted as saying he regrets "100%" that a Turkish jet was shot down after entering Syrian airspace.
In an interview with Turkey's Cumhuriyet newspaper, he argues that the plane was flying in an area previously used by Israel's air force.
The plane went down in the Mediterranean last month and the two pilots have not been found.
The incident has heightened tensions between the two countries.
Last week, Turkish PM Recep Tayyip Erdogan condemned Syria's action and described the neighbouring country as a "clear and present threat".
Turkey's border areas were reinforced with rocket-launchers and anti-aircraft guns on Friday.
It has also emerged that the Turkish air force scrambled fighter jets on Monday for the third day in a row after Syrian helicopters were said to have approached the border.
In his Turkish interview, Mr Assad appears to try to cool the dispute, saying Syria had not and would not bolster its military presence, regardless of the actions of Mr Erdogan's government.
"We will not allow (the shooting down) to turn into open combat between the two countries," President Assad is quoted as saying.
In other developments:
Turkish media reported late on Monday that another 85 Syrian soldiers, including 14 senior officers, had defected across the Turkish border. It is one of the biggest groups of army defections since the March 2011 uprising in Syria began
Syria is practising a widespread policy of state-sanctioned torture with an "archipelago of torture centres", a Human Rights Watch report says
UN human rights chief Navi Pillay has said that both Syrian government forces and the opposition have been involved in operations that harmed civilians
At least 78 people were killed in violence throughout Syria on Monday, opposition activists reported
Clashes were reported on Tuesday in suburbs of Damascus and government forces were operating in the cities of Deraa and Deir al-Zour, the Local Co-ordination Committees (LCC) activist group said
UN observers visited the Damascus suburb of Douma on Tuesday, which was recaptured days earlier by government forces. They turned back for security reasons. Although their mission in Syria is officially suspended, they carry out humanitarian visits to assess the effect of the crisis on civilians
A picture released by activists purportedly showed the burial of more than a dozen people killed by Syrian forces in Douma
Cumhuriyet says that during its interview - carried out over two-and-a-half hours in Damascus on Sunday by Ankara bureau chief Utku Cakirozer - the Syrian leader was adamant that the plane's identity had become clear only after it was brought down.
"We want to think of it as a pilot's error and we would consider this an isolated incident," he is reported as saying. "I say 100% 'if only we had not shot it down'."
The soldier who opened fire on the F-4 Phantom had no access to radar, he says, pointing out that the same route was used in the 2007 Israeli bombing of a site in north-eastern Syria.
The UN's nuclear agency later said the site was very likely a nuclear reactor under construction.
Downed Turkish jet: the two accounts