UN rights chief Navi Pillay plea on Syria weapons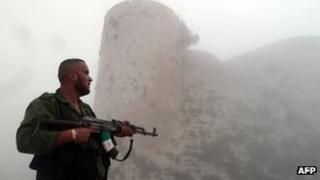 UN human rights chief Navi Pillay has made an appeal for "further militarisation" of the conflict in Syria to be avoided "at all costs".
Both government forces and the opposition have been "involved in actions harming civilians", she said.
She also renewed her call for the UN Security Council to refer the conflict to the International Criminal Court.
Meanwhile, 85 soldiers crossed the Turkish border and defected on Monday, Turkish state TV reports.
The soldiers included one general and several officers, Turkish media sources said.
The reports come after more than 30 Syrian soldiers, including a general, two colonels and two majors, were reported to have fled to Turkey and defected last week.
Tensions between the two countries have heightened since Syria shot down a Turkish fighter jet on 23 June.
Clinics 'attacked'
Ms Pillay did not mention any countries by name in her remarks, but Saudi Arabia and Qatar are widely believed to be supplying arms to the rebel Free Syrian Army (FSA) and have been paying their salaries.
Russia and Iran have been accused of arming Syrian government forces.
Ms Pillay said government forces had attacked clinics, and that rebels had taken over at least one medical facility for military purposes, the BBC's Barbara Plett reports from New York.
Ms Pillay also said there was a report of anti-government forces using children as human shields, our correspondent adds.
She also urged that the mandate of the UN observer mission in Syria be strengthened so it could effectively report on the human rights situation.
The Security Council is considering whether to downscale the mission, since the violence has made it impossible for it to operate.