Obituary: former Israeli Prime Minister Yitzhak Shamir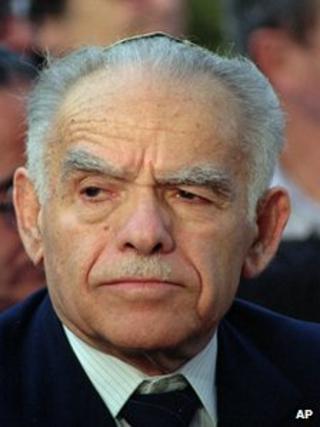 Yitzhak Shamir, who has died aged 96, was the Zionist militant of the 1940s who became a hard-line prime minister of Israel in the 1980s.
He was born Yitzhak Jazernicki in Poland but changed his name to Shamir. He studied law at Warsaw University.
But in 1935, when he was 20, he came under the influence of a militant Zionist, gave up his studies and emigrated to Palestine, then under the British mandate.
His father, mother and sisters were killed during the Nazi occupation of Poland.
In Palestine, he joined an underground organisation, Irgun Zvai Leumi, led by another future Israeli prime minister, Menachem Begin, and dedicated to fighting for an independent Jewish state.
But Irgun was not militant enough for Shamir, who believed that violence was the way to get results, and in 1940 he joined - and later led - the more extreme Stern Gang.
The British Foreign Office in the 1940s described him as "among the most fanatical terrorist leaders".
It was they who in 1946 blew up the King David Hotel, the British headquarters in Jerusalem, with the loss of 88 lives (15 of them Jewish), and killed the United Nations mediator, Count Bernadotte.
Shamir was twice arrested by the British and twice escaped, finally returning after the 1948 declaration of the state of Israel.
Knesset speaker
For the next seven years he worked in law and business, but in 1955 he joined Mossad, the Israeli intelligence service, leaving after 10 years to campaign on behalf of Soviet Jewry.
In 1970 he joined the Herut Party, led by Begin, and three years later was elected to the Israeli parliament, the Knesset.
He was speaker from 1977-80, then foreign minister, and became prime minister in 1983, when Begin retired.
He soon showed that he was more decisive and resolute than many had expected.
After the indecisive election of 1984 he formed a coalition with Shimon Peres of the Labour Party. It was agreed that Peres should be prime minister for the first two years, then Shamir took over again.
He disagreed with many of the things Peres had done. He was against the sort of international conference on the Middle East favoured by Peres. He did not want Moscow involved.
And Peres was more conciliatory towards the Arabs than he was. Shamir was determined that there should never be a Palestinian state, and he was not prepared to hand back land. Though he wanted peace, he was not afraid of war.
Ethiopian airlift
The 1988 election took place at a time of uprising in the occupied territories and neither Labour nor Shamir's Likud group won a clear mandate.
Shamir and Peres formed a new coalition government until 1990, when the Labour party left the government, leaving Shamir with a narrow coalition.
In May 1991, Shamir ordered the airlift of thousands of Ethiopian Jews in a rescue operation code named Operation Solomon. In September of the same year, the Shamir government took part in the Madrid peace talks.
When Iraq fired Scud missiles at Israel, his government did not attack. The US had urged restraint, saying Israeli attacks would pose problems for the delicate Arab-Western coalition assembled against Iraq.
Although long a hard-liner, Shamir left office in 1992 after his government fell amid charges that Likud was too conciliatory toward the Palestinians, and was succeeded by Yitzhak Rabin.
Shamir stepped down from Likud leadership in March 1993. He was a sharp critic of his Likud successor, Benjamin Netanyahu, as being too soft and indecisive in dealing with the Palestinians.
Yitzhak Shamir was a short, barrel-chested man, direct and intense, but also humorous and kindly. He could speak several languages but was not regarded as a very good communicator.
He was first and foremost a patriot, unyielding in his determination to do what he saw as the right thing for Israel.