Former Israeli Prime Minister Yitzhak Shamir dies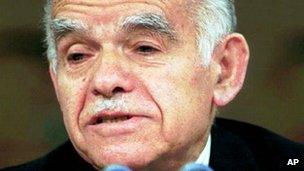 The former Israeli Prime Minister, Yitzhak Shamir, has died at the age of 96, officials say.
In a statement announcing the death, current Prime Minister Benjamin Netanyahu paid tribute to his "deep loyalty to Israel".
As leader of the right-wing Likud party, Mr Shamir was prime minister between 1983-1984, and in 1986-1992.
In office, he gained a reputation as an uncompromising opponent of Palestinian statehood.
"He was part of a marvellous generation which created the state of Israel and struggled for the Jewish people," Mr Netanyahu said in his statement.
Born in Poland in 1915, Yitzhak Shamir moved to what was then Palestine. His father, mother and sisters were killed in Nazi-occupied Poland.
In Palestine, Mr Shamir joined a Zionist paramilitary organisation fighting against forces of the British mandate for the creation of a Jewish state.
After the founding of Israel in 1948, he joined its Mossad intelligence service before launching a political career in the 1970s.
During his second term as prime minister, he ordered a military solution to the first Palestinian intifada (uprising) which began in 1987.
He persistently advocated the creation of a Greater Israel encompassing all the land between the Mediterranean and the Jordan river.
However, in 1991, he reluctantly led Israel into negotiations with its Arab neighbours that would pave the way for the Israeli-Palestinian peace process under his successors.
After losing elections to the centre-left Labour party in 1992, he retired from politics.
Reportedly suffering from Alzheimers, he withdrew from public life towards the end of his life.