Bethlehem sites given Unesco World Heritage status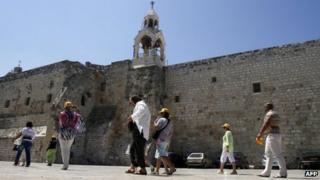 The UN's cultural agency, Unesco, has voted to add the Church of the Nativity in Bethlehem and its pilgrimage route to the list of World Heritage Sites.
The Palestinian delegation welcomed the approval of its bid to get protected status for the church, built on a site some believe was Jesus's birthplace.
Israel and the US opposed the move, saying it was politically motivated.
It was the first such approval since Palestine was controversially granted membership of Unesco last year.
Bethlehem's Church of the Nativity - originally constructed in 399 above a cave traditionally believed to be the birthplace of Jesus and rebuilt after fire in the 6th Century - is among the holiest sites in Christianity
The short section of the pilgrimage route from Jerusalem to Bethlehem - following the historical route believed to have been taken by Mary and Joseph - is used for the procession of the Patriarchs at Christmas.
An estimated two million people visit the two sites every year.
At a meeting in the Russian city of St Petersburg on Friday, Unesco delegates voted 13 to six in favour of giving both of them World Heritage Site status "on an emergency basis", entitling them to UN protection and funding for restoration work the Palestinians say is urgent.
Controversy
When the result of the secret ballot was announced, there were loud cheers and fist pumping from the Palestinian delegation, reports the BBC's Jon Donnison in Ramallah.
"These sites are threatened with total destruction through the Israeli occupation, through the building of the separation wall, because of all the Israeli sanctions and the measures that have been taken to stifle the Palestinian identity," permanent delegate Elias Wadih Sanbar said.
Israel's permanent delegate, Nimrod Barkan, said his country supported awarding World Heritage Site status to the Church of the Nativity under a completely different, non-emergency procedure that carried no implications for the stalled Middle East peace process.
"The decision taken now was totally political and does great damage in our opinion to the [UN] convention and its image," he added.
Christian denominations were also opposed to the bid, fearing Unesco would start to meddle in the affairs of the Church of the Nativity.
Our correspondent says Palestinians will see this as a small but significant victory.
Last year, Unesco became the first UN body to officially accept Palestine as a member state, despite strong opposition from the US and Israel, which said it would further remove the possibility of a permanent peace deal.
That led to Washington suspending millions of dollars of funding for the agency, which accounted for a fifth of its budget.
Last year, Palestinian Authority President Mahmoud Abbas failed in his bid to gain recognition of a Palestinian state at the main body of the United Nations, although officials say they may revive that bid this year.